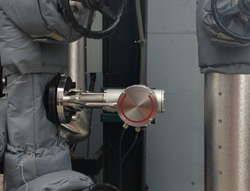 Ashland, Virginia (PRWEB) August 22, 2017
Anton Paar, the premier manufacturer of viscosity measurement instruments and equipment, is pleased to announce substantial process improvements made by client Michigan Paving & Materials. Installation of Anton Paar's L-Vis 510 Inline Viscometer now allows Michigan Paving & Materials to monitor the rotational viscosity of asphalt binders during production, leading to considerable time savings. In a statement, Brent Croy of Michigan Paving & Materials lauded the early results.
"The real time measurement of viscosity and temperature provided by the L-Vis 510 viscometer has proven invaluable for the monitoring of asphalt cements --both neat and modified. What typically takes laboratory equipment 45 minutes to an hour to measure can now be had within a couple of minutes," he said.
Anton Paar Product Specialist David Hammer points out that Michigan Paving & Materials is not alone in their assessment of the L-Vis 510's value.
"It's clear there is a great benefit to having a fast and consistent real time process viscosity measurement. Many production facilities have the ability to blend many different asphalt binders and there is the risk of transferring the wrong blend to a transport vehicle than what was intended. An inline viscosity measurement is a simple and very cost effective way to eliminate this risk," said Hammer.
Anton Paar's L-Vis 510 Inline Viscometer, is the complete solution. With numerous integration possibilities the L-Vis 510 is immersed directly into the process liquid and provides 24 hour monitoring of viscosity and temperature values that can be correlated to the laboratory reference values.
To learn more about the L-Vis 510 Inline Viscometer contact Anton Paar at info(at)anton-paar.com, or 804.550.1051.