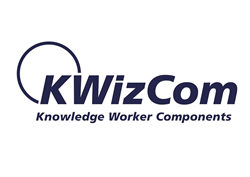 Toronto, ON (PRWEB) August 18, 2017
KWizCom, a leading developer of SharePoint Forms & Mobile Solution, as well as multiple other powerful SharePoint web parts, add-ons and apps for Office 365 (SharePoint Online), announced their plans to air a new development webinar on the customization of KWizCom Forms using clients' own styles and custom JavaScript. The webinar will be led by the Manager of Product Development at KWizCom, Kevin Vieira.
In this live interactive online session, the attendees will learn how to take existing forms that have been created using the KWizCom Forms App and customize them using CSS and JavaScript. The webinar will air live on Wednesday, August 30th at 2pm EST. The webinar recording will be available on demand within 1-2 business days.
KWizCom Forms app is a SharePoint online (Office 365) app that turns existing SharePoint list forms into rich, enhanced web forms. SharePoint business users can easily create their custom forms by quickly enhancing existing list forms without any need for technical skills. KWizCom Forms App will allow them to effortlessly implement business processes without messing with complex workflow design tools.
To register for the above-mentioned webinar, please visit http://www.kwizcom.com/company/webinars/ .
For more information on KWizCom Corporation and the company's 60+ SharePoint add-ons and apps for Office 365, visit the company's website indicated below.
Follow KWizCom on Twitter @KWizCom
Become a fan of KWizCom on Facebook: https://www.facebook.com/KWizCom
Join KWizCom on LinkedIn http://www.linkedin.com/company/kwizcom
Contact a KWizCom Account Specialist at +1-905-370-0333/+1-855-KWIZCOM or info(at)kwizcom(dot)com
About KWizCom Corporation
Since 2005, KWizCom has provided innovative solutions and services to make SharePoint even better for over 7,000 companies worldwide. KWizCom's solutions and services expand Microsoft SharePoint out-of-the-box capabilities, streamline workflow, maximize efficiency and enhance over-all productivity for hundreds of thousands of users. KWizCom, a Gold Certified Microsoft Partner, is headquartered in Toronto, Canada. Please visit http://www.kwizcom.com to find out more about KWizCom's clients, people, partners and solutions.