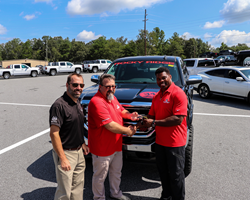 Herschel Walker: ". . . I can't wait to get behind the wheel of my new Rocky Ridge. The look, the Callaway supercharged power, and the engineering that ties it all together … all make for a great truck."
Franklin Springs, GA (PRWEB) August 19, 2017
The Rocky Ridge "Callaway Special Edition" pickups and SUV's showcase the core competencies of the two companies. Rocky Ridge has been at the forefront of lifted performance trucks since 1985. Their suspension systems are specifically engineered and manufactured for increased ground clearance while maintaining proper geometry for superior handling. Rocky Ridge's conversions are widely recognized as the highest quality lift trucks built.
At the same time, Callaway Cars has been on the cutting edge of positive manifold pressure applications for performance vehicles since producing their first turbocharger kits in the late 1970's. Callaway powertrain engineering expertise has been cultivated through its OEM contracts, including constructing Callaway Twin Turbo Corvettes for Chevrolet Division from 1987 to 1991. In fact, Callaway Corvettes of the '80's and '90's and present-day supercharged Callaway "SC-series" cars and trucks have become icons of Chevrolet-based performance.
Herschel Walker has been a winner since his high school days, leading his football team to their first state championship as well as graduating valedictorian. A three year All-American football star at the University of Georgia, he earned the esteemed Heisman Trophy as a Junior in 1982. Following a 14-year, record-breaking career in the USFL and NFL, Herschel even competed in Olympic bobsledding and holds an undefeated record in mixed martial arts.
Chuck Fletcher, the National Sales Manager of Rocky Ridge Trucks, reported: "We're very proud to have Herschel Walker represent our company. He has proven himself to be a winner throughout his life - in college football, professional football, and even mixed martial arts. We couldn't imagine a better spokesman to support our trucks." Chuck smiled, "They're winners, too."
Herschel Walker looks forward to getting started: "I'm so pleased to have the opportunity to work with these guys. And I can't wait to get behind the wheel of my new Rocky Ridge. The look, the Callaway supercharged power, and the engineering that ties it all together … all make for a great truck."
ROCKY RIDGE "CALLAWAY SPECIAL EDITION" SILVERADO / SIERRA EQUIPMENT
Rocky Ridge

4" Suspension Lift Kit
35" All-Terrain Tires
Powered, Retractable Side Steps
Smooth Fender Flares with Concealed Hardware
Rocky Ridge Windshield Logo Graphics
Color Keyed Front and Rear Bowties
Four Wheel Alignment
Speedometer Recalibration
Tire Pressure Sensor System Recalibration
Rocky Ridge 3 Year/36,000 Mile Limited Warranty
Callaway Cars

Callaway GenThree™ Supercharger with TripleCooled™ Intercooling System
Mid-Engine Cover Set, Callaway Carbon, with "SC480" Emblems
"Honker" High Flow Air Intake System
Callaway Low Restriction Exhaust System, Front of Rear Wheel Exit, Dual Tip
Callaway Nine-Spoke Alloy Wheels, 20" x 9.0", Anthracite Finish
"Supercharged" Hood Emblems
"SC480" Grille Emblem
Callaway/Rocky Ridge Front Door Emblems
Callaway/Rocky Ridge Tailgate Emblem
"SC480" Tailgate Emblem
Callaway/Rocky Ridge Dash Plaque
Callaway/Rocky Ridge WeatherTech® Floor Mats, with Special Edition Badging
Callaway/Rocky Ridge Underhood Plaque with Vehicle Identification Number
Callaway/Rocky Ridge Authenticity Documentation Package
Callaway "Powerfully Engineered" Key Fob
Callaway 3 Year/36,000 Mile Limited Warranty
Specifications are subject to change without prior notice.
Rocky Ridge Trucks and Callaway Cars Inc. are not responsible for typographical errors.