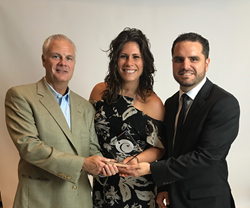 "Our goal was to create a magazine for the Jupiter and surrounding communities that was all about them. This award validates our mission and proves why InJupiter offers so much more to local and national advertisers throughout our multimedia channels."
NAPLES, FL (PRWEB) August 21, 2017
InJupiter Magazine™, Jupiter, Florida's hometown magazine, has been named "Best New Magazine" by the Florida Magazine Association (FMA) for 2017.
The prestigious Charlie Award was presented to InJupiter's staff Friday night by the Florida Magazine Association at the 2017 Florida Media Conference at the Ritz-Carlton Beach Resort in Naples, FL. According to the FMA, there were a record 600 plus entries for the this year's awards and the winners were selected by 17 recognized out-of-state magazine and newspaper professionals, and college journalism professors. The Charlie Awards have recognized achievements by Florida magazines since 1957. The FMA's annual Charlie Awards competition crowns publishers, writers, editors, artists, and others as the best among their peers in scores of different categories.
"We really want to thank the community of Jupiter, Florida and North Palm Beach County for all of their overwhelming support and engagement with our captivating articles and photography," says Doug Commette, InJupiter's Publisher. "Our goal was to create a magazine for the Jupiter and surrounding communities that was all about them. This award validates our mission and proves why InJupiter offers so much more to local and national advertisers throughout our multimedia channels."
One local reader comments, "I recently discovered InJupiter Magazine. As a lifelong Floridian and Jupiter native, I was impressed by your stories and coverage. For the first time, a local magazine actually covered Jupiter's people and places honestly and with depth. You featured places in Jupiter that locals really do go to and are interested in, not just luxurious destinations geared toward tourists."
Although now an award-winning publication, InJupiter is far more than just a magazine that is easy on the eyes. Their tech-savvy, professional staff consist of experts in digital and social media marketing and public relations. InJupiter is at the forefront of digital marketing and combines a cross-platform media and marketing channel for local and national brands looking to reach this affluent, recreational, nautical, and athletic community. InJupiter features captivating articles with the latest trends and happenings revolving around one of Florida's most beautiful beachside communities and vacation destinations.
InJupiter is available in glossy print, digital online version, and through their mobile app. With over 25,000 copies mailed and 30,000 copies in total circulation throughout Jupiter, Tequesta, Juno Beach, Palm Beach Gardens, and the whole of North Palm Beach County, InJupiter Magazine is the ultimate visual voice capturing the community, businesses, and diverse lifestyles of the people living, visiting, and enjoying the recreational and cultural activities In Jupiter, Florida.
Anyone interested in Jupiter, FL can subscribe to InJupiter Magazine, engage with their massive social media channels (see below), and receive their e-mail newsletters to stay in the know about one of the best little seaside towns in America.
Facebook: http://www.facebook.com/injupiter
Instagram: http://www.instagram.com/injupitermagazine/
Twitter: http://twitter.com/INJupiterFL
Media Contact:
Doug Commette
900 E Indiantown Rd. Suite 312
Jupiter, FL 33477