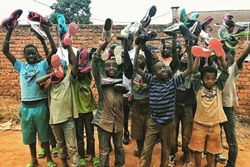 Lynchburg, VA (PRWEB) August 18, 2017
More than 20,000 pairs of shoes made their way across the Atlantic this summer to the Democratic Republic of Congo (DRC) thanks to an ambitious venture that conjoined the passions of an NBA star, a Liberty University student, and an LU alumnus, as well as the generous support of the Liberty community. These shoes will save lives from the rampant infections transmitted through the soil.
AMERICAN SOLES
In March, Liberty students collected new and gently used shoes, bringing them to a packed Vines Center for Convocation where NBA superstar Stephen Curry joined them in the cause. In all, 20,000 pairs were collected and $10,000 was raised. The event was called "Kick'n It For A Cause," and united M.B.A. student Emmanuel Ntibonera's vision to bring sneakers to the villages of his home nation with that of alumnus Chris "COSeezy" Strachan ('11), whose Kick'n It organization seeks to spread love and unite people through their affinity for pop culture and sneakers.
Nearly two decades ago, Ntibonera was a refugee, on the run from a war that would become the bloodiest conflict since World War II (more than 5.4 million died there in the Second Congo War between 1998 and 2008). Ntibonera eventually immigrated to the United States, along with his parents and eight younger siblings. But his heart began to hurt for those suffering back home.
He returned to his homeland in 2014. Though he brought some supplies, Ntibonera was overwhelmed by the need he saw, especially the preventable infections that plagued the bare feet of villagers and orphans. Ntibonera and his family spent the next two years collecting shoes as they led worship and ministered in churches and at conferences across the U.S. through the Ntibonera Foundation, a nonprofit Emmanuel founded.
As shoes filled up the family home, the complex reality of delivering the shoes to the Congo became increasingly apparent. It would cost thousands of dollars to ship them all. Ntibonera met with Liberty Senior Vice President for Spiritual Development David Nasser to ask for prayers for his country. During their meeting, he mentioned the work his family was doing. As it turns out, Nasser also met Strachan ('11) shortly after and learned about the Kick'n It organization. He quickly connected the two men. Nasser saw a way that everyone at Liberty could help and set a goal to double the collection. Liberty invited Curry, a personal friend of Strachan's, to join the effort. Strachan launched a social media campaign asking students — and their friends and families across the country — to donate a pair of new or gently used sneakers.
"It was a project that the entire Liberty community could take part in," Nasser said. "Faculty, staff, even Liberty President Jerry Falwell and his wife, Becki, were going through their closets for shoes."
Curry spoke at the Convocation in support of the drive and brought 1,000 pairs of Under Armour shoes. Nike, Liberty's basketball sponsor, sent 500 pairs. Curry, Ntibonera, and Falwell each made baskets from the Vines Center floor to raise money. Liberty students volunteered to pack the shoes at the nearby headquarters of Gleaning for the World (GFTW), a worldwide Christian humanitarian organization that partnered with Liberty to ship the shoes.
AFRICAN FOOTPRINTS
In July, Ntibonera, joined by six family members, returned home. A few weeks later, he met Strachan, Nasser, and Josh Rutledge, Liberty's vice president for Spiritual Development, in Africa. The parties encouraged each other and then set to work.
"God put His hands on the entire thing," Strachan said, recalling "being swarmed by thousands of little, cute kids smiling and going crazy."
Strachan got to help somebody lace up the very sneakers he had once worn.
"The fact that it saves his life," Strachan said, "I don't have the right words to use for it, but it's everything to me — the true defining moment of everything we did. I'm happy that I got to put them on his feet, tie them up, give him a high-five, and send him on his way with them."
The story has garnered national media attention, including making SportsCenter's top 10 on ESPN. See more footage on Kick'n It's website.
As the LU and Kick'n It teams ministered to Congolese people in refugee camps, Ntibonera set off into the eastern villages of the Congo. In addition to the 20,000 pairs of shoes that were distributed, people also received 3,500 pounds of rice, 2,600 pounds of beans, and 2,200 pounds of cornmeal, as well as soap, clothing, candies, and toys (donated by GFTW).
According to Ntibonera, the villages had never been touched by outside humanitarian efforts. As the large truck rolled in, people crowded by the thousands. Everywhere they went, they were moved by how great the needs were, especially with the children.
"In every village that I would go, I would talk to the children," Ntibonera said. "So many were orphans … I met so many kids who were just about to die because they have not eaten for three to five days; they have no idea where their meals are coming from. We came on this trip to reach out to these kind of people, who are neglected."
He met with children who had escaped after being abducted at around age 5 and forced to become rebel soldiers.
"These are the stories that touched my heart," he said.
He went to an orphanage, which was struggling due to so many children being abandoned at the doorstep.
"These kids have never put on a pair of shoes," he said. "The smile (of children) getting to put on a pair of shoes for the first time, that was the greatest moment."
Ntibonera wants to return next summer and bring more. While he knows his work is not complete, Ntibonera said he was blessed beyond measure by what he was able to do for his country, thanks to God's blessing and Liberty's support.
"I am very proud to be a Flame. What we did with Liberty was unbelievable," Ntibonera said. "I couldn't have done this without Liberty, without all those people who gave a pair of shoes, the people who were praying; they all made it a success."
Nasser gives much credit to Ntibonera and the desire that God put on the student's heart to help his nation.
"At Liberty, you could see the energy of students coming around one student for this project," he said. "They said, 'If your people are in need, we're going to come help you.' That's what Liberty does, always steps up for family. You're not just a Liberty student, you're part of an army."