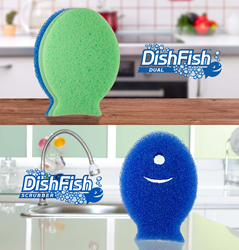 The newly launched household cleaning tool, DishFish™, will now be available at Wegmans Food Markets
San Clemente, California (PRWEB) August 22, 2017
Foamtec International Company, LLC announces that the newly launched household cleaning tool, DishFish™, will now be available at Wegmans Food Markets beginning in August. Wegmans will introduce two products from the DishFish line-up: the original DishFish Scrubber – a non-scratch, dish-cleaning scrubber; and the DishFish Dual – a superior scrubbing sponge.
Created, manufactured and launched in June 2017 by the pioneer Consumer Products Division of Foamtec International, DishFish received an overwhelming response from customers – over 70% preferred the DishFish products over their current scrubbing sponges based on limited in-home testing. The ergonomic shape of both products allows users to easily access hard-to-reach places, fits comfortably in the consumer's hand, and helps to thoroughly drain water and thus potential bacteria when placed on its tail.
Made with exclusive PowerCell Technology™, the DishFish Scrubber delivers:

Superior, non-scratch scrubbing power
2.5 times the durability of the leading competitor
Naturally resists bacteria odors, mold and mildew with its flow-through cells that are designed to quickly and efficiently release water, food and grease to stay cleaner and dry faster
The DishFish Dual, possessing nearly 10 times the durability of the leading competitor and features PowerCell Technology and ForeverFresh Foam™ to aid in:

Fighting bacteria odors, mold and mildew with added anti-microbial
Single-swipe absorbency
Inhibiting stains and rinsing quickly
"We are thrilled to now have DishFish available at such a well-known and respected retailer," states Jim Kordenbrock, General Manager of Foamtec International's Consumer Products Division. "We succeeded in designing a superior product, with the customers' needs in mind. In limited market research, our customers called the DishFish the 'perfect scrubbing sponge'."
For more information and retail availability on the DishFish, please visit http://www.thedishfish.com.
About Foamtec International:
Foamtec International Company, LLC is a global leader in the high-tech foam industry for 20 years, operating specialty converting, technical foam development and manufacturing, clean room medical and consumer products divisions. Foamtec International utilizes state-of-the-art technology to offer end-to-end solutions that adhere to stringent standards and certifications. Foamtec International's world class manufacturing systems provide customers a one-stop, high-tech business model with complete transparency and accountability. For more information, visit their website at http://www.foamtecintlwcc.com.