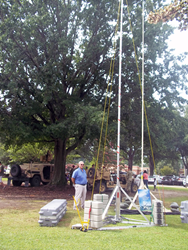 The opportunity to interact with attendants and educate them about our lightning protection systems and RF test equipment was invaluable,"
GREENVILLE, NC (PRWEB) August 20, 2017
LBA Technology, Inc., (LBA) a unit of LBA Group, Inc., recently returned from the 16th Annual NC Defense and Economic Development Trade Show. The company's proprietary PLP Series of lightning protection systems offered one of the highlights in the show's outdoor exhibits. The PLP 38 StrikeMaster® Lightning Protection Systems are used by the U.S. Military. Indoor exhibits included LBA's Radio Frequency (RF) test equipment appropriate for the testing needs of Special Forces. These included broad RF Safety survey meters, antenna analyzers, RF power meters, and RF Safety monitors.
LBA personnel attending the event were COO, Mike Britner; Operations Manager, Bryan Dixon; and Business Developer, Mike Senn. The LBA team was able to greet, network and receive very positive product feedback from senior representatives of the Congressional Delegation, the Department of Defense, other federal agencies and numerous defense contracting firms.
"It was fun watching as our product exhibits caught the eyes of many of those in attendance," Britner said. "Having the opportunity to interact with them and educate about our lightning protection systems and RF test equipment was invaluable," Britner added.
LBA showcased the PLP 38 and PLP 30 StrikeMaster® Lightning Protection Systems along with the PLP CAT Fast Deployment Catenary systems. The PLP CAT is ideal for specialized military applications.
"The PLP CAT systems are perfect for protecting fuel or explosive storage facilities, temporary encampments, vehicle parks, and other facilities not amenable to stand alone lightning mast deployments," LBA's Bryan Dixon said.
The NC Defense and Economic Development Trade Show is organized by the North Carolina Military Business Center (NCMBC), headquartered at Fayetteville Technical Community College (FTCC) in Fayetteville, NC, just a few miles from Fort Bragg. This year's show was held on August 7 at FTCC.
For more information on LBA's PLP Series of lightning protection systems click here and get more details on LBA's full line of RF safety and RF test equipment by clicking here. Also contact Mike Senn directly at: 252-757-0279 or michael.senn(at)lbagroup(dot)com.
Keep up on LBA news and information by following LBA Group on Facebook and LinkedIn.
About LBA
LBA Group, Inc. has over 50 years of experience in providing RF asset solutions and risk management for industrial and telecommunications infrastructure assets. The company is comprised of the technology consultancy Lawrence Behr Associates, Inc.; LBA Technology, Inc., a leading manufacturer and integrator of radio frequency systems, lightning protection, safety, and EMC equipment for broadcast, industrial, and government users worldwide; and LBA University, Inc., providing international online professional safety training. The companies are based in Greenville, N.C., USA.