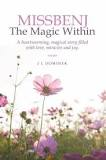 If you can focus on the ups, the downs won't feel so devastating.
Fort Myers, Flo. (PRWEB) August 21, 2017
Can having pets make you live longer? Many studies have shown the health benefits animals provide, including a recent Finnish study published in Pediatrics, which found that children under one year of age living in homes with dogs were 30 percent less likely to develop respiratory infections and 56 percent less likely to have ear infections than those without dogs.
In J.L. Dominek's new fantasy book, "MISSBENJ: The Magic Within," a magical dog named Missbenj is able to heal people with a kiss. A "Cinderella" story, this fairy tale involves a beautiful woman who meets a strangely familiar man, moves to a mansion and finds her own "Prince Charming." A tale of miracles and the power of unconditional love unfolds and makes the impossible seem possible for a woman battling cancer, along with other characters who are suffering from their own afflictions.
"My life has taken some rough turns," Dominek said, "but, through it all, my vivid imagination has helped me to remain positive and hopeful. My book embodies this spirit of optimism."
Dominek's hardships provided the inspiration for her books, which she wrote as a tribute to her lost loved ones, including her dog, Benji.
"Life is full of ups and downs," Dominek said. "If you can focus on the ups, the downs won't feel so devastating."
For more about J.L. Dominek, visit: http://www.missbenjtrilogy.com/.
"MISSBENJ"
By J.L. Dominek
ISBN: 978-1-4897-1135-8
Available at the LifeRich Publishing and Amazon
About the author
J.L. Dominek grew up in Pittsburg, Penn., as the youngest of eight children. She is the mother of two, and happily married to her best friend, Rich. They now live in southwest Florida. Dominek has lost many family members, over the years, and has, herself, battled and survived cancer. Her inspiration for the MISSBENJ trilogy was her lost loves and beloved dog, Benji. She wrote stories to keep their memories alive. To learn more about the author and her books please visit: http://www.missbenjtrilogy.com/.
###
Review Copies & Interview Requests:
LAVIDGE – Indianapolis
Lindsey Gobel
317.435.2116
lgobel(at)lavidge(dot)com