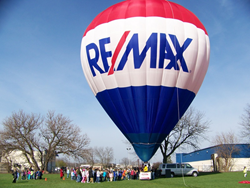 ELGIN, Ill. (PRWEB) August 20, 2017
The 325 students at Westwood Elementary School, 14124 W. South Street Road., Woodstock, Ill., will enjoy a visit from the RE/MAX Hot Air Balloon and its crew on Aug. 23, who will present an interactive educational program developed by the RE/MAX real estate network in northern Illinois.
The students will learn about various aspects of ballooning, including its history and the scientific principles involved, during an outdoor presentation on school grounds. If conditions permit, the envelope of the 75-foot-tall balloon will be fully inflated so that students can clearly understand how the balloon functions. Also on hand to enhance the occasion will be the RE/MAX Soaring Home Balloon, a special-shape inflatable that looks like a house with children and pets inside, which has become a crowd favorite.
The program is scheduled to begin at 7:40 a.m. and was arranged by Rob Schaid, broker/owner of RE/MAX Plaza, which has an office in Woodstock, as well as offices in McHenry, Richmond and Wauconda, Ill.
The RE/MAX Hot Air Balloon has become an internationally recognized corporate symbol since first taking flight 36 years ago. It appears frequently at festivals, parades and charity events and in the skies of northern Illinois.
This year the RE/MAX Hot Air Balloon will be involved in numerous educational programs presented by its crew at schools throughout northern Illinois.
RE/MAX has been the leader in the northern Illinois real estate market since 1989 and is continually growing. The RE/MAX Northern Illinois network, with headquarters in Elgin, Ill., consists of more than 2,250 sales associates and 105 independently owned and operated RE/MAX offices that provide a full range of residential and commercial brokerage services. Its mobile real estate app, available for download at http://www.illinoisproperty.com, provides comprehensive information about residential and commercial property for sale in the region. The northern Illinois network is part of RE/MAX, a global real estate organization with 110,000+ sales associates in 100+ nations.
####
EDITOR'S NOTE: RE/MAX® is a registered trademark. Please spell in all caps. Thank you.