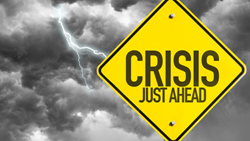 New York, NY (PRWEB) August 22, 2017
PR News will host a crisis-focused webinar on Thursday, August 31 from 1:30 - 3:00 p.m. ET, that will cover how to anticipate and mitigate crises online. The webinar will feature presentations from George Atallah, Assistant Executive Director of External Affairs, NFL Players Association; Dan Kneeshaw, Senior Director, Global Communications, Digital Strategy and Brand Engagement, Walmart; and Sam Huxley, SVP, Practice Chair, Risk & Business Strategy, LEVICK.
To view the full agenda, visit: http://www.prnewsonline.com/webinars/crisis-communication.
Webinar participants will learn how to:

Use live-streaming video to mitigate a crisis
Create social posts, emergency websites and other digital assets in anticipation of a crisis
Build a social media and organizational command structure that keeps messaging precise and consistent
Tell your story online to rebuild trust and humanize your brand, post-crisis
Employ social media listening tactics that efficiently keep you aware of potential crises
Develop benchmarks to understand the severity of emerging conversations
Ensure a unified response via talking points and employee social media guidelines
Online conversations about your brand happen around the clock, so how organizations use social media to respond to a crisis can make all the difference between minimizing the damage or going viral for all the wrong reasons. Yet according to the Incite Group, only 53% of businesses use social for reputation management. In addition, every 15-minute delay in a crisis response extends the online conversation by nearly an hour, according to a study by crisis management firm LEVICK. In this webinar, crisis experts will teach you how to closely manage your brand's online reputation, prepare digital assets ready to deploy at a moment's notice and vary your response depending on the social media platform.
This interactive webinar will allow for real-time Q&A's to ensure specific questions are answered. To register for PR News' Crisis Management Webinar on Thursday, August 31, visit: http://www.prnewsonline.com/webinars/crisis-communication.
Webinar registration includes access to the webcast recording and speaker presentations for one full year. For questions regarding webinar registration, contact Client Services at clientservices(at)accessintel(dot)com.
The PR News Group at Access Intelligence, LLC is a go-to source that serves the communications and marketing community at corporations, agencies and nonprofits. With the launch of its weekly newsletter over 70 years ago, PR News has remained dedicated to supporting the growth of communicators all while keeping them abreast of the latest news affecting the industry. For more information, please visit http://www.prnewsonline.com.
###