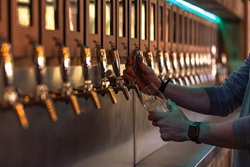 "A majority of customers are mesmerized by the concept and how it functions. People enjoy the freedom to get a beer whenever they want, rather than having to wait for a server or bartender."
SOUTH LAKE TAHOE, CALIF. (PRWEB) August 18, 2017
Lovers of Lake Tahoe, craft beer and the latest technology have a new go-to brewery for their craft beer adventures. Lake Tahoe AleWorX, South Lake Tahoe's newest gastrobrewery, is adding a high-tech touch to the craft beer experience with self-serve draft beer system, iPourIt, allowing adventurous customers to pour beer themselves.
With the iPourIt self-serve beverage dispense technology, customers create their own tasting experience by pouring their own samples and pints. No server, no wait time, no risk of getting stuck with the wrong pint.
"iPourIt gives us the ability to have patrons try a lot of different beer styles in lower quantities. People can try different beer styles they might not have tried by interacting with the beer directly and educating themselves," said Lake Tahoe AleWorX founder and CEO, Luca Genasci.
A self-serve tap system may seem like an adventurous choice for a brewery or bar, and at Lake Tahoe AleWorX, that's exactly the point. And, it paid off—installing the iPourIt system reduces wait times and labor costs, freeing up staff while creating a unique experience for every customer. "The reduction in labor costs with minimum wage on the rise in California is also very appealing. Cost savings and labor reduction are prevalent," Genasci said.
Self-serve novices will be happy to know the iPourIt system is easy to use, and for the technologically challenged, an AleWorX employee is always on site to lend a helping hand.
Beer explorers and brewery staff need not worry about "that guy," either—each customer's consumption is tracked to the tenth of an ounce, as well as calculates the tab upon checkout.
How the iPourIt Self-Serve Tap System Works:
The iPourIt self-serve beverage dispense technology has customers pouring beer or wine in a few simple steps. An AleWorX employee swipes the patron's drivers license, credit card and RFID wristband in the iPourIt system at the check-in station. The staff member gives the wristband to the patron, and that's it! He or she is now free to start their personalized craft beer adventure.
"A majority of customers are mesmerized by the concept and how it functions. People enjoy the freedom to get a beer whenever they want, rather than having to wait for a server or bartender. They also really like being able to try just a little bit of many beers, rather than being stuck with a full pint," Genasci said.
About Lake Tahoe AleWorX
Lake Tahoe AleWorX invites Tahoe lovers to come enjoy #aTasteOfAdventure with 30 taps of self-serve draft beer. Beers are made on site as well as brought in by other local brewers. At AleWorX, craft beer enthusiasts take beer exploration into their own hands, finding delight in the daily adventure of trying the latest one-off from the new local brewery, or the opportunity to explore a seasonal limited release. As a team, AleWorX has its sights set on connecting Tahoe lovers with craft beer lovers, offering a one of a kind adventure and opportunity to explore craft beer. Let Lake Tahoe AleWorX be your first stop to let loose and relax after a day of fun-filled adventure. The adventure will continue as we walk you step by step through an exploration of craft beer like you've never experienced before. Follow the adventure online on laketahoealeworx.com, Facebook (facebook.com/laketahoealeworx) and Instagram (@tahoe_aleworx).
About iPourIt, Inc.
iPourIt, Inc. is a revolutionary self-serve beverage dispense technology that allows taproom and fast casual patrons to pour their own beer, cider, wine, cocktails and coffee, and it tracks and monitors every pour. iPourIt's data analytics gives bar and restaurant operators valuable information about who poured what, when, and where, so businesses may effectively target patrons and create a positive experience, while increasing revenues. iPourIt's self-serve solution is now in operation on 2,500 taps nationwide and counting, with more than 3.4 million ounces poured each month, and more than 5.5 million users, a number that grows every day. iPourIt is born and supported in the U.S.A. Learn more about iPourIt at ipouritinc.com, and follow us for updates on Facebook (facebook.com/iPourIt), Twitter (@iPourIt_inc) and Instagram (@ipourit).