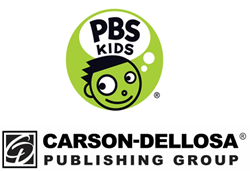 We believe anytime can be a learning time, and we are dedicated to helping all children build the skills they need to succeed.
Arlington, VA (PRWEB) August 22, 2017
PBS KIDS and the Carson-Dellosa Publishing Group ("Carson-Dellosa") announced a multi-year licensing partnership today that will create a wide range of PBS KIDS educational products – including a brand new series of affordable books, workbooks, educational cards, learning kits and more – launching in 2018.
PBS KIDS' new products will support the brand's commitment to delivering innovative educational learning experiences for children. One hundred percent of the net proceeds from the sale of the books and workbooks will support PBS KIDS' mission to help all children, especially those at risk.
"At PBS KIDS we believe anytime can be a learning time, and we are dedicated to helping all children build the skills they need to succeed," said Dawn Ciccone, Vice President, Brand Licensing, PBS. "Carson-Dellosa shares our commitment to sparking learning moments everywhere, and we are excited to work with them to introduce a new collection of educational books and other engaging products that will encourage exploration and build school readiness skills."
"We are thrilled to be introducing a new series of books under the PBS KIDS brand," said Al Greco, CEO of Carson-Dellosa. "PBS KIDS is the number-one educational media brand for children and ranks first in school readiness. Families already trust PBS KIDS and they know they can count on its high-quality and engaging learning resources. We can't wait to bring this new series of products to market, and provide one more opportunity for children to learn and grow."
The new licensing partnership will kick off with the debut of a collection of PBS KIDS Stick with It! and My Take-Along Tablet books. Appropriate for children ages 4 and up, the PBS KIDS Stick with It! workbooks will include stickers and provide hours of interactive learning fun (SRP: $4.99). With a compact design, the PBS KIDS My Take-Along Tablet line of books will make it easy for children to learn on the go (SRP: $2.99). Both product lines will be available to families across the country at major retailers in April 2018.
About PBS KIDS
PBS KIDS, the number one educational media brand for kids, offers all children the opportunity to explore new ideas and new worlds through television, digital platforms and community-based programs. Kidscreen- and Webby-award winning pbskids.org provides engaging interactive content, including digital games and streaming video. PBS KIDS also offers mobile apps to help support young children's learning. The PBS KIDS Video App is available on a variety of mobile devices and on platforms such as Roku, Apple TV, Amazon Fire TV, Android TV, Xbox One and Chromecast. For more information on specific PBS KIDS content supporting literacy, science, math and more, visit pbs.org/pressroom, or follow PBS KIDS on Twitter and Facebook.
About Carson-Dellosa™ Publishing Group
At Carson-Dellosa, we believe that learning is everywhere. Whether at school, at home, or on-the-go, life is filled with learning moments. As the market-leading publisher of children's supplemental educational products, we've been bridging school and home with innovative solutions for teachers and families for more than 40 years. Our well-recognized brands Carson-Dellosa Education™, Spectrum®, Summer Bridge™, Thinking Kids™, and Brighter Child® are available at over 10,000 retail locations, in addition to its direct-to-consumer ecommerce platform carsondellosa.com. For more information about Carson-Dellosa, visit carsondellosa.com, or follow Carson-Dellosa on Facebook, Instagram or Pinterest.
Media Contacts
Maria Vera Whelan, PBS KIDS; (703) 739-3225; mvera(at)pbs(dot)org
Kelly Poggiali, Carson-Dellosa Publishing; (614) 668-5481; kpoggiali(at)carsondellosa(dot)com