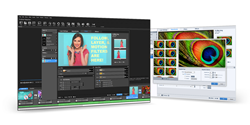 Austin, TX (PRWEB) August 23, 2017
Today Photodex announced version 9 of its award-winning ProShow Gold and ProShow Producer slideshow tools. ProShow is an easy-to-use software for Windows that allows photographers and enthusiasts to create high quality photo, video and audio slideshows. ProShow offers a wide-array of special effects, built-in creative tools and a royalty free music library for making extraordinary professional video slideshows to share online, on DVD and Blu-ray, or any device.
ProShow 9 offers all-new creative tools that give users more creative control over their slideshow design. The all-new layer filters, motion filters, and follow filters make complex effects effortless. The new Filters interface provides a one-stop-shop for making video slideshows look better than ever.
Layer filters let users apply 45+ photo filters to their photos and videos with just a couple clicks. The curated set of filters can instantly bring new life to any photo or add vintage effects. New motion filters can create high energy photo and video animations with just a click - no video editing knowledge necessary. Over 150 new motion filters are included. The new follow filter lets creative users do even more, allowing for multiple photos and videos to move together onscreen.
New 4K output provides unmatched quality, taking video slideshows to an entirely new level. Improved video output is now faster, and includes an all-in-one publishing queue to batch together videos then output to multiple formats consecutively. A publishing history tool makes it easy to access all the videos created for a slideshow from a centralized interface.
Other new creative tools in ProShow 9 include a re-designed color tool with new built-in color palettes and the ability to create your own custom palettes. The newly enhanced Vignette tool now supports custom-designed presets and includes several handy vignette designs built-in.
ProShow 9 Includes the Following New Features and Enhancements:
All New Follow Filter, Layer Filters, and Motion Filters
Users can add and adjust photo filters on images and videos, and combine those filters with other slide and transition effects. Motion filters easily apply animation to photos, videos, and captions without the need for manual editing. Follow filters allow photos, videos, and captions to follow each other on screen with just a few clicks.
Enhanced Publishing Options
New 4K publishing allows users to output their slideshows in higher quality than ever before. The new publishing queue lets users prepare multiple different output formats, then let ProShow automatically create everything while they're away from the computer. Plus with the all new publishing history users can keep track of all the videos created for each slideshow.
Streamlined Color Tool + All New Color Palettes
ProShow 9's freshly re-designed color tool makes it easier to find the perfect color. Customizable color palettes let users save their favorite colors, and the software includes several color palettes designed by professional designers. The new color tool also provides quick access to complimentary and similar colors, making it easier to quickly find the perfect color for captions, backgrounds, outlines and more.
Additional Features and Improvements
ProShow 9 includes tons of additional improvements based on feedback from users. Workflow and performance improvements can be found in many places across the software.
Pricing and Availability
ProShow 9 is available in two versions, ProShow Gold, for enthusiasts, is available for $69.95. ProShow Producer, for professionals, is available now for $249.95. Upgrade pricing is available for existing users. Available from http://www.photodex.com or by calling 1-800-37-PHOTO (1-800-377-4686).