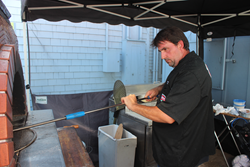 "There is nobody on the planet that can beat me in flavor"
Oceanside, CA, (PRWEB) August 20, 2017
Pizza-making talent from across the United States competed at the 2017 U.S. Pizza Team (USPT) West Coast Pizza Trials, hosted by Dominic's Italian Restaurant. Twenty pizzaioli vied for the top prize of a spot on the USPT and a trip to Parma, Italy, to compete in the World Pizza Championship in April 2018.
Michael "The Wolf" Athanasopoulos, owner of the Lamb & the Wolf in Auburn, California, went home as a champion and the newest USPT member. The Wolf also won a Food Network Golden Ticket to compete in the World Food Championships in Orange Beach, Ala.
Limited ingredients and cooking methods kept all the competitors thinking outside the box on preparation and execution. The Wolf out-baked the competition with his sausage and pepper pie. Starting with a spicy tomato marmalade base, the pie was topped with green and red peppers sautéed in lemon olive oil. Three types of sausage - a mild, spicy and red wine/rosemary blend - rounded out the flavors. The pizza was finished with a red pepper marmalade and cooked in a wood-fired oven at 650°.
"There is nobody on the planet that can beat me in flavor," said The Wolf.
Second place went to USPT veteran Michael LaMarca, owner of Master Pizza in Cleveland, Ohio, with his Detroit Rock City pizza. This Detroit-style pizza had a pillowy crust with the distinct crusty caramelization of the cheese around the edges. It was topped with a 50/50 blend of mozzarella and provolone cheese and a housemade red sauce featuring "tomato velvet," the fleshy skin of the tomato showcasing all the texture, flavor and eye appeal. The Detroit Rock City was finished off with a dusting of Pecorino Romano cheese after the bake.
Bringing in third place was Vincent Rotolo of Evel Pie in Las Vegas, with his Mushroom and Onion 9.0 pie. It featured nine types of mushrooms, such as smoked enoki and nameko, grilled portobellos, roasted maitake, shiitake, chanterelle, bunashimeji, baby king oyster and blue foot mushrooms, plus cheese blends consisting of aged Parmesan, a 50/50 mozz blend, shaved truffle caciocavallo, smoked scamorza, fresh smoked mozz and Grand Cru Pecorino with black truffles. The pie also included several different onion types, including Vidalia onions, pearl onions, chopped and caramelized red onions, and deep-fried shallots.
The West Coast Trials also offered an Iron Chef event voted on by the public. This event let each of the competitors bring their best pie to the table while incorporating a secret ingredient, Black Cherries, and was sponsored by Amarena Toschi Cherries. The People's Choice Award and second Golden Ticket went to Leah Scurto of Pizza My Heart in the San Francisco Bay area. She created a "Lemon Pie Pizza" using a cream sauce, sliced lemons and Toschi black cherries.
The World Food Championships will be held November 8-14 in Orange Beach, Ala. The Golden Tickets are courtesy of Food Network Judge Jodi Taffel, also known as "The Bacon Babe." Both winners were also awarded engraved butcher knives sponsored by Gunter Wilhelm.
The 2017 West Coast Pizza Trials are sponsored by Regal Wine Company, Gunter Wilhelm, Young's Market Company, Karl Strauss Brewing Company, Mission Brewery, Peroni Nastro Azzurro, Garage Brewing, Red Oven Artisanal Pizza and Pasta, Wine Warehouse, Jacmar Foodservice Distribution and Dominic's Italian Restaurant.
The U.S. Pizza Team is sponsored by American Baking Systems, Paradise Tomato Kitchen, Gordon Food Service, Grain Craft, California Milk Advisory Board, La Nova, SoFo Foods, Bag Solutions, Fontanini, Marsal & Sons, Lillsun, Lloyd Pans, Pivetti, Presto, and Univex
For more information about this event or the U.S. Pizza Team, contact Brian Hernandez at 662-234-5481 x 129, brian(at)pmq(dot)com, or visit http://uspizzateam.com/.
###