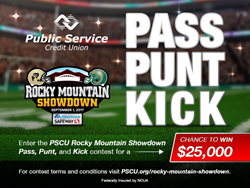 Denver, CO (PRWEB) August 25, 2017
Public Service Credit Union (PSCU) is proud to be the Official Credit Union of the Rocky Mountain Showdown 2017!
This is the second year the Colorado credit union has sponsored the annual battle between in-state football rivals, Colorado State University (CSU Rams) and University of Colorado (CU Buffaloes).
"We love supporting our communities and celebrating the spirit of Colorado," said Todd Marksberry, PSCU President & Chief Executive Officer. "We want to help people afford life, including the costs of college by providing scholarship opportunities as well as free financial education in local communities and schools. We're so proud to be part of this classic match-up between these two great schools!"
As a not-for-profit institution, PSCU gives back to communities throughout the Front Range. In 2017, the credit union awarded more than $56,000 in scholarships benefiting dozens of students looking to further their education.
#RockTheShowdown Photo Contest
In addition to sponsoring the annual event, PSCU fueled some college spirit with a #RockTheShowdown social media photo contest for CSU and CU fans to win free tickets to the Showdown. Ten lucky fans won two tickets, each, selected by online voters. Check out the #RockTheShowdown winning photos or visit facebook.com/pscucolorado.
PSCU Pass, Punt, & Kick Contest for a Chance to Win $25,000*
PSCU is extending the spirit through game day with the PSCU Pass, Punt, & Kick Contest providing free tickets to the Showdown and a chance to win $25,000!* Two lucky contestants, one CSU fan and one CU fan, will be randomly selected to compete on the field during the game. Entries must be received by August 31, 2017. For more information and official rules, please visit pscu.org/rocky-mountain-showdown.
Those interested in competing may fill out the PSCU Pass, Punt, & Kick Contest online entry form:
ENTER FOR A CHANCE TO WIN $25,000.
*Please review the PSCU Rocky Mountain Showdown Pass, Punt, & Kick Official Rules before entering. No purchase or payment of any kind is necessary to enter or win this contest.
About Public Service Credit Union (http://pscu.org)
Public Service Credit Union (PSCU) has been safe, secure, and insured for the past 79 years. Today, PSCU holds assets in excess of $2 billion and has more than 200,000 members. PSCU provides a full array of financial products and services, including savings, checking, loans, mortgages, and online and mobile banking options. Members can access their accounts and conduct transactions at PSCU's 28 branches, and at over 200 shared branch locations throughout Colorado. In addition, through the credit union's partnership with the CO-OP network, members have surcharge-free access to more than 30,000 ATMs across the country.