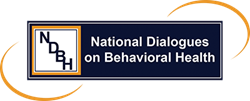 "Framing the Future of Behavioral Health Services: What's the Next Step" is the focus of the conference," said Jan Kasofsky, PhD, NDBH President.
New Orleans, Louisiana (PRWEB) August 29, 2017
Contact: Angela deGravelles via prpro(at)eatel.net; Jan Kasofsky, PhD, NDBH President, jan.kasofsky(at)la.gov
For Immediate Release
National Behavioral Health Conference Scheduled in New Orleans on October 22-25, 2017
Behavioral Health Leaders Explore Best Practices in Times of Change
The 2017 58th Annual National Dialogues on Behavioral Health (NDBH) annual conference will be held in New Orleans at the Renaissance Arts Hotel from October 22 -25, 2017, and is titled "Framing the Future of Behavioral Health Services: What's the Next Step?" A pre-conference program will be held October 22.
Conference partners are the National Association of County Behavioral Health and Developmental Disability Directors (NACBHDD), the National Association of State Mental Health Program Directors (NASMHPD) and the Western Interstate Commission for Higher Education (WICHE) Mental Health Program.
This year's conference confronts the turmoil of the changing national healthcare environment, evaluates its impact on behavioral healthcare and broader healthcare policy, and builds on successes achieved as changes occur in funding, clinical models, workforce and the emergence of new technologies.
The conference topics are designed for psychiatrists, social workers, nurses, psychologists, counselors, addiction counselors, case managers, administrators, policy makers, behavioral healthcare providers, state/county behavioral healthcare administrators, members of the judiciary, justice system administrators, law enforcement/justice system stakeholders departments, emergency/disaster response professionals, educators, school based counselors, health plan administrators, health policy makers, academicians. An application for CEU's for social workers is pending approval from the National Association of Social Workers.
The pre-conference program offered on Sunday, October 22, from 8:45 a.m. to 4:00 p.m., examines the question, "Is a best practice model possible for behavioral health in a new health care environment?" Speakers include Henry Harbin, MD, Healthcare Consultant and former CEO of Magellan Health Services; Anita Everett MD, Chief Medical Officer, SAMHSA; Lisa Dixon MD, MPH, Director of Behavioral Health Services and
more
Page 2 National Behavioral Health Conference
Policy Research, Department of Psychiatry, Columbia University; David Covington LPC, MBA, CEO and President of RI International; Leslie Schwalbe, Vice President, State and Local Programs, Optum; and pre-conference conveners Vijay Ganju, PhD, NDBH and Brian Hepburn, MD, NASMHPD.
The fee for the general conference Monday through Wednesday is $295. The pre-conference fee for Sunday October 22 is $150. Registration can be secured and program and speaker details accessed at http://nationaldialoguesbh.org/.
The opening day of the National Behavioral Health Conference on Monday, October 23, includes the following topics and speakers: Jan Kasofsky, PhD, NDBH President, will open the conference overview and the first presentation will be a "Setting the Stage" on adapting to the healthcare turmoil as new plans unfold amid changes to the Affordable Care Act and its impact and strategies for success for behavioral healthcare funding by John O'Brien, Technical Assistance Collaborative; Rochelle Dunham, MD, Metropolitan Human Services Authority, Executive Director, will present best practices on the use of medication-assisted treatment (MAT) use and implementation. Afternoon speakers are Susan T. Azrin, PhD, Program Chief, National Institute of Mental Health on "First Episode Psychosis Program" and NIMH best practice methods shared with state and local partners; Brian Sims, MD, NASMHPD follows with "Trauma Informed Approach" with lessons from police and the community of Baltimore; and Gina Lasky, PhD, Health Management Associates completes the day presenting "Integration of Medical and Behavioral Healthcare" examining the environmental, policy and funding issues affecting the integration of medical and behavioral healthcare models. A dialogue with speakers is scheduled in the morning and afternoon sessions.
The Tuesday, October 24, programming will feature Ron Manderscheid, PhD, NACBHDD on "Changes in the Model-Intercept Zero" examining the criminal justice system (police, courts, corrections) and how the Intercept Model can benefit those with mental illnesses; Leslie Schwalbe, MPA, Optum and Larry Goldman, DMD, Beacon Health Options will speak on "Dealing with Complex Behaviors" or how best practices can ensure
more
Page 3 National Behavioral Health Conference
optimal outcomes for children and adults within a new managed care environment; John Allen, Special Assistant to the Commissioner, New York State Office of Mental Health will follow presenting the "Role of Peers" on how trained peer specialists can contribute to the rehabilitation and recovery of individuals receiving behavioral health care services; Ron Manderscheid, PhD, LSU and Brian Hepburn, MD, NASMHPD close the morning session presenting on "Tying the Models Together". The afternoon session begins with Stephen Phillippi, PhD, Program Director/Chair, Behavioral and Community Health Sciences Program, LSU Health Sciences Center and Dennis Mohatt, MA, WICHE, Vice President for Behavioral Health present the topic of "Workforce" on what are the components of a good behavioral health workforce; and, Jody Bechtold, LCSW, Quartet and Zereana Jess-Huff, PhD, Lyra Health, VP of Clinical Programs and Provider Strategies will speak about the "Use of Technology and BH Internet Services" and examine supportive mobile technologies, collaborative care models, and cross training options as well as opportunities to maximize the use of advanced technologies to improve access and outcomes.
The final day of programming on Wednesday, October 25, will feature three speakers: Leslie Schwalbe, MPA, Optum, Larry Goldman, DMD, Beacon Health Options, and Ted Lutterman, Senior Director, Government & Commercial Research, National Association of State Mental Health Program Directors Research Institute on "Value Based Purchasing" with specific information on best practices of financing treatments and pharmaceuticals and how they can be adapted for use. The conference will close with remarks from Ron Manderscheid, PhD, NDBH. Dialogues with participants and speakers will occur throughout the meeting and as a wrap-up on Wednesday.
Conference registration, detailed topics and presenters, and information on hotel registration can be accessed at nationaldialoguesbh.org. Questions may be directed to Brittany Copithorn at bcopithorn(at)wiche.edu. Early registration is encouraged.
######