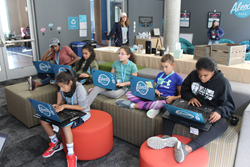 Seattle, Washington (PRWEB) August 22, 2017
According to the National Girls Collaborative Project, women are currently earning 57% of bachelor's degrees in all fields, but only 17% in the field of computer science. Two powerhouse organizations partnered with a generous local donor to change that.
iD Tech, a leader in summer STEM education programs, worked with Women's Funding Alliance to send 95 girls from the Greater Seattle area to iD Tech's innovative STEM camp, Alexa Café.
For five days, the girls will experience an immersive, women-led STEM environment at the University of Washington campus. Women college students lead courses in coding, game design, engineering, and robotics in a collaborative, supportive environment with a focus on philanthropy and social movements.
This opportunity was made possible with a $50k gift from an anonymous woman donor.
"Alexa Café has been a transformative experience for so many girls," said Liz Vivian, Women's Funding Alliance President and CEO. "By connecting our expansive network of girl-serving organizations with philanthropy, we ensured girls who might not otherwise have access to the program are able to attend."
Beyond skills in STEM, Alexa Café strives to develop girls' leadership skills, which is also a core principle of the Alliance's mission.
"I can't think of three more inspiring women's groups — the WFA, iD Tech, and the private donor — to create a more unique and engaging STEM experience for young women here in the Greater Seattle Area," says Alexa Ingram-Cauchi, co-founder of iD Tech and Alexa Café's namesake. "Each group has been working independently over the years to empower and mentor young women. We knew our collaboration could build something truly amazing."
For more information or to visit the sessions on-site, please contact press(at)idtech(dot)com.