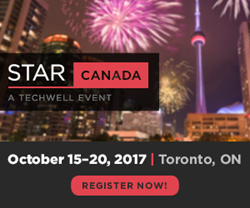 I am very excited about sponsoring and hosting PLATO Testing Team members at this year's conference as the PLATO initiative is helping to train and employ new members of our testing community.
(PRWEB) August 22, 2017
TechWell is excited to announce STARCANADA's inaugural Test Lab, where attendees get to "break" software for a good cause and network with their peers at the same time. The Test Lab will focus on testing Humanitarian Toolbox code, which is code from applications that have become vital resources for many disaster relief organizations.
This year the popular STAR conference networking event will also be in partnership with PLATO Testing (Professional Aboriginal Testing Organization, Inc.). PLATO Testing is on a social mission to help Aboriginal people across Canada get jobs in the IT industry. The young Indigenous population are among the highest undereducated and underemployed. PLATO Testing's training-to-employment program improves these statistics.
Additionally, current Aboriginal testing students from the PLATO Testing organization will be attending STARCANADA on scholarship and assisting other attendees while working in the Test Lab.
Mike Sowers, Program Chair for STARCANADA 2017 said "I am very excited about sponsoring and hosting PLATO Testing Team members at this year's conference as the PLATO initiative is helping to train and employ new members of our testing community while also contributing to better employment for this community."
To learn how PLATO Testing is changing lives through education and employment, visit https://www.platotesting.com
For more information and to access the full STARCANADA conference program, visit https://starcanada.techwell.com
ABOUT TECHWELL CORPORATION:
TechWell—through its conferences, training, consulting, community websites, and online resources— helps people and organizations develop and deliver great software. For more information, visit http://www.techwell.com