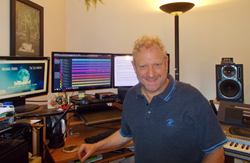 "With Cubase's flexibility I was able to set up a screen that had just what I needed on it," Kurek said.
NASHVILLE, Tenn. (PRWEB) August 30, 2017
American composer Michael Kurek's recent music has garnered critical and popular praise alike, not to mention been performed in 15 countries on five continents and broadcast on National Public Radio. His curriculum vitae brims with prestigious accolades including the American Academy of Arts and Letters' highest-level lifetime achievement award. Earlier this year, his latest album "The Sea Knows" (Navona Records) debuted at Number One on the Billboard Traditional Classical chart, and stayed there for two weeks.
Recording classical music conjures up images of high-end mics and preamps, large sound-stages, and sometimes esoteric and proprietary recording systems. Mr. Kurek, however, found that capturing the dynamic and harmonic subtleties of his lush neo-romantic style was best served by a tool used by thousands of musicians in all genres the world over: Steinberg Cubase. And while it's forgivable to assume a classical composer might have luddite leanings, Kurek himself produced, edited, and mixed all five compositions on "The Sea Knows" in Cubase, "mainly because in classical I often don't have the budget to hire someone to do this for me," he laughs. He also tracked three songs by himself, and worked with acclaimed Nashville engineer Kevin Edlin on the string-trio "Savannah Shadows" as well as the fully orchestrated title track.
Kurek first encountered Cubase through colleague Paul Deakin, "who suggested I check it out before purchasing anything else," he recalls. "Once I got it he was kind enough to do a quick tutorial in person. I was up and running within an hour or two."
Speaking further to the ease of use was the fact that Kurek found Cubase to be accommodatingly agnostic with regard to musical styles: "Since some other programs are designed with the pop musician and terminology primarily in mind, you have to work around those things, or they're just a bit in the way, or the instruction manual seems geared that way. Since I'm not so much trained in pop mixing and am not tech-savvy about it, I found that with Cubase's flexibility I was able to set up a screen that had just what I needed on it — I do both mockups with MIDI files and virtual instruments, then also straight acoustic audio recording."
Kurek's choice of hardware for much of the recording process might surprise some readers. "The three duo and solo tracks — cello and harp, viola and harp, and solo harp — were recorded by me alone into Cubase using my very basic Shure SM58 mics. For the harp solo, I just had two of these and my Steinberg UR22mkII audio interface in the harpist's apartment in downtown São Paulo, Brazil. Maybe these are the 'wrong' mics for this [application], but in Cubase I was still able to get the clear sound and end results I wanted.
"'The Sea Knows' reflected a traditional orchestral microphone philosophy," Kurek continues, referring to the album's title track, which employs full instrumentation. "We had a center pair of main mics, two outer-end mics at far left and far right, a pair of very far-off ambient mics in the hall, and a solo mic on a cello. This meant that all the balance issues had to be dealt with in the performance rather than in the mix. If there was, for example, a line in the viola section I couldn't hear in the booth, I had to instruct the musicians via talk-back to play louder, because there would be no way to make them louder later on. I was very happy with the result, because it sounded like a real blended classical recording, not a studio or film score. I've noticed that some new classical records sound too 'studio' for my tastes; for example, you can hear the cello solo because the brass section has obviously been close-mic'd and turned way down. That sounds artificial to me."
One might not think of the need for editing when one thinks of classical recordings, but in fact, the editing features in Cubase proved invaluable to helping Kurek realize the sounds in his mind's ear.
"We do use far fewer tracks than, say, a pop production," he explains, "essentially one track per microphone. There was room onscreen to line up everything vertically, so it was easy for me to scroll while mixing and grab a measure from a different take of the same passage if it was best for that passage to include it. Compared to pop, I think editing in classical may be more musical than technical, because there are so many nuances of performance that can be played differently between takes, like finding the most expressive portamento slide into a note that's slightly different each take. You want to assemble all those most expressive moments into one performance."
Beyond expressiveness, even in the disciplined classical world, there can be mistakes to fix, as Kurek details: "Chairs squeaking as a player leans over, page turns, and more people playing at once, so that if only one of them coughs or bumps a bow on a music stand, it ruins that spot. There were also a few spots where no single take was perfect — say, a tendency for a string player to hit a note attack flat after making a big interval leap, and I had to resort to just a few artificial fixes, like a pitch correction by a few cents to get the intonation spot-on."
Above all, what Mr. Kurek finds most appealing about Cubase is that he feels he hasn't needed to become a full-on "gear geek" to get excellent results: "I'm self-taught and have only learned what I need to know on the job, rather than having taken a comprehensive course in recording technology as one would at an engineering school. I haven't needed to record a drum kit, so I have no idea how. But I have learned, for example, to edit the velocity of a virtual piano to get the sound I wanted for a mockup. It's helpful now to make a virtual mockup of your classical music for conductors — and even for some chamber performers — to know if they want to do a piece that's never been played before, to help them know the tempos, how long to hold a fermata, and so on. I tend to have a very specific vision of what I want and that informs my recording, of course. It also informs coaching the players in rehearsal for the live concert.
"That vision is also the mother of invention while mixing, because I know what sound I'm after, and if I don't know how to get it, I'll go research this or that plug-in or whatever it takes, or sometimes I'll just turn the knobs until it sounds right. I can't say that I compose with recording in mind, or change anything I write in anticipation of a problem it might cause in recording. I simply try to write idiomatic and playable music that lies well for each instrument, so that in the concert, it works!"
"The Sea Knows" is available now from Navona Records (http://www.navonarecords.com). To learn more about Michael Kurek, visit http://www.michaelkurek.com
-END-
About Steinberg Media Technologies GmbH
Steinberg is known the world over for its music and audio software and hardware solutions. The company has been developing, manufacturing and selling innovative products for musicians and producers in the music, film, post production and multimedia industries since 1984. Steinberg products are used by Grammy and Oscar award-winning composers, engineers and producers. The company also offers business customers license-management and copy-protection systems.