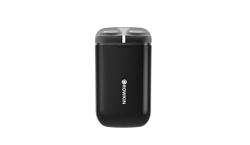 Rowkin debuts two new sets of true wireless earbuds: Rowkin Surge sport-fit earbuds, perfect for the gym, and Rowkin Micro case and stereo earbuds for convenient daily use at school, work, or travel.
San Mateo, Calif. (PRWEB) August 22, 2017
Wireless headphone brand, Rowkin, is delighted to introduce two new products: the Surge, its first ever truly wireless sport-fit earbuds, launching today, and the Micro, its smallest wireless earbud set to date, available this fall.
Rowkin's new products embody the brand mantra, "Moving Forward," by providing its customers with more flexibility and updated features. The Rowkin Surge offers athletes a secure fit and the music they need to power through any extreme scenario. Each Surge earbud is truly wireless and fits comfortably in the ear with an adjustable over-ear hook to create a customized and ergonomic fit. Travel-sized, the Rowkin Micro case is roughly half the size of an average business card. The sleek Micro case includes two truly wireless earbuds and delivers convenient on-the-go earbud charging for up to 12 hours of music.
"We are ecstatic to announce the launch of Rowkin Surge and Micro earbuds, providing our music-lovers even more functionality in every aspect of their day-to-day lives," said Anson Liang, president. "The launch today also marks a major milestone for the company, completing our full spectrum product offering and providing products that fit every lifestyle."
Rowkin Surge True Wireless Sport-Fit Earbuds:
Features:
-Designed for a secure, comfortable sport-fit, the Surge wireless earbuds deliver big, rich bass and clear call quality with a 14.2mm dynamic driver.
-Near limitless flexibility with a range of up to 30 feet with Bluetooth 4.2, making it easy to roam the office, apartment, or even climb your gym rock wall without needing to carry your device.
-Power through your day! The Surge offers approximately five hours of play/talk time, more than enough for your average marathon.
-Built-in multi-functionality makes switching songs, accepting calls or activating Siri and Google Assistant easy – no need to fish out your phone. Our high-performance microphone offers an ultra-stable performance, capturing every detail for a clear call.
-Now available on the Rowkin website and Amazon.com.
-MSRP: $129.99
Rowkin Micro True Wireless Portable Earbuds:
Features:
-Pack a punch with the Rowkin Micro's enhanced portable charger, bringing you up to four on-the go charges for a total of 12 hours of listening time.
-Small size, superior sound - the Rowkin Micro earbuds bring stereo sound and clear calls in the world's smallest earbud.
-One-touch setup makes pairing Micro to Siri or Google Assistant with no need to reach for your phone.
-Feel free to sweat it out or hike a misty mountain with Micro's WaterSafe nanocoating making them sweat-proof and water resistant.
-Coming fall 2017.
-MSRP: $99.99
All Rowkin products offer the latest Bluetooth technology, enabling users to connect with any smart device (iOS 11 or later, and Android) up to 30 feet. All earbuds have built-in microphones for easy use with Apple's Siri or Google Assistant. In addition, Rowkin headphones are sweat-proof and water-resistant with IPX5-rated WaterSafe nanocoating technology.
About Rowkin:
Based in San Mateo, California, Rowkin is focused on creating innovative products that fit seamlessly into and improve people's everyday lives. From rugged to relaxed, Rowkin's line of wireless earbuds connect the world with the music they love without inhibition. Our goal is to empower people to keep moving forward. Rowkin unleashes people, enabling them with the technology they need to live the independent, active lives they want. Rowkin – Moving Forward.