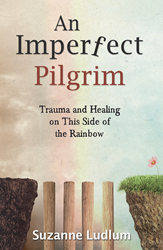 FREDERICKSBURG, Va. (PRWEB) August 21, 2017
Author and Yoga Therapist, Suzanne Ludlum, has released "An Imperfect Pilgrim – Trauma and Healing on This Side of the Rainbow," a compelling memoir which chronicles her harrowing experience with severe depression and trauma to overcoming her demons with the help of mind-body practices.
After suffering multiple losses and subsequent abuse at the hands of those very people who were supposed to help her, Ludlum suffered intense mental decline and fell into a darkness that seemed unrecoverable. After years of psychiatric hospitals and various therapists, she began her long climb out. But she eventually found healing in the most unlikely place while discovering how its potential could help her attain true emotional health.
"Suzanne offers us ways we can discover and nourish resources within ourselves that enable us to feel in control, even when life is out of control. Here, she shows us that we don't have to be defined by our circumstances. We truly can be the master of our own destiny," said Richard Miller, PhD, founder of the Integrative Restoration Institute and author of "The iRest Program for Healing PTSD."
Ludlum allows readers into the most intimate and tragic moments of her life while she finds hope in the practices that were the key to helping her reclaim her lost life.
As a Yoga Therapist and owner of Trinity Yoga & Healing, Ludlum now helps those who are hurting as she once did, and uses this form of therapy to help patients who are suffering from trauma and mental health issues such as PTSD.
"This book was written as a message in a bottle, in hopes that it would find its way into the hands of people who can draw upon what I learned in their own healing journey, as well as for professionals who work with them. I want to reach those who are suffering in silence and let them know they are not alone and to never give up, as there is always hope even when everything else in life may seem shattered," said Ludlum.
To learn more please visit http://www.animperfectpilgrim.com or http://www.trinityyogaandhealing.com.
"An Imperfect Pilgrim – Trauma and Healing on This Side of the Rainbow"
By Suzanne Ludlum
ISBN: 978-1-5043-7824-6 (soft cover), 978-1-5043-7826-0 (hard cover),
978-1-5043-7825-3 (eBook)
Available on Amazon, Barnes & Noble, and the Balboa Press Bookstore
About Suzanne Ludlum
Author Suzanne Ludlum is a Yoga Therapist and holds the highest credentials in her field including a Master of Science degree in Yoga Therapy from Maryland University of Integrative Health, certification through the International Association of Yoga Therapists, and ERYT-500 designation (experienced yoga teacher at the highest level) from Yoga Alliance. She also presents at international conferences to audiences of mental health professionals and other yoga therapists. Ludlum resides in Fredericksburg, Virginia with her husband and daughter.
For general inquires & review copies contact:
LAVIDGE – Phoenix
Lauren Dickerson
ldickerson(at)lavidge(dot)com
480-998-2600