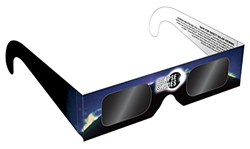 Demand for these solar glasses grew so quickly, it caught sellers by surprise, resulting in skyrocketing prices
Lakewood, NJ (PRWEB) August 20, 2017
SellerCloud, an integrated ecommerce management provider, reported aggregated sales data for eclipse glasses sold through its network in anticipation of the solar eclipse which will be visible throughout the continental United States on August 21.
The data shows how retailers profited handsomely on the surging demand for these glasses, with prices rising sharply as the date of the eclipse drew closer.
On Monday, August 21, people in North America will be able to see a solar eclipse. Since looking directly at the sun causes serious eye damage, viewers must use special eclipse glasses made with protective solar filters.
As the eclipse approaches, the spike in demand for the glasses has led the price of a pair of eclipse glasses to increase nearly twentyfold in a matter of weeks. A 10 pack of these paper glasses, which were selling for around $8 as recently as the end of July, has now skyrocketed to $159.00.
The frames of eclipse glasses are made of cardboard, and the lenses are made of a special solar film that must comply with the current safety standard, ISO 12312-2. The cost of making a pair of eclipse glasses ranges between 30 and 70 cents. According to data collected by SellerCloud from actual sales by users of its program, the average retail price per pair of eclipse glasses sold was $7.15.
SellerCloud's CEO Jeremy Greenberg noted how the surprisingly strong demand took many of his sellers by surprise. "Originally, our customers had listed these glasses cheaply, knowing that there would be lots of sellers competing for these listings. But the demand grew so quickly, that there simply wasn't enough of these glasses, and the prices skyrocketed in response to the intense demand." He noted that most of the sales through his network occurred either on Amazon or the merchant's own website.
The selling price of these glasses varied greatly, depending if the user purchased them in single units or in multi-packs. Those buying just one paid on average $20 per pair, but buying them in 10-packs resulted in a much lower price of just $3.50 a pair. Most of the pairs were sold as 10-packs. The data also showed that using the keywords "eclipse" and "glasses" in the product listing helped boost sales, and the inclusion of ISO certification in the title.
Here are some key stats taken from SellerCloud's data:

Avg selling price of $7.15 per pair
Based on sales of over 207,000 pairs
10 pack most popular, also sold in single, 3, or 5 pack
50-70¢ cost per unit to manufacture
Sales occurred mostly on Amazon or merchant website
Single units sold at average price of $20.14
The August 21 eclipse will be the first time a total eclipse of the sun has been visible in the continental United States since 1979. Not everyone in the contiguous United States will be able to see the event as a total eclipse, though. A total solar eclipse will be visible in a band that stretches across North America from Oregon southeast to South Carolina, covering just 16% of the country. People outside this area will be able to see a partial eclipse, which also requires the use of special glasses to view safely. The next total solar eclipse visible in North America won't occur until 2024.
SellerCloud is a leading ecommerce management software used by hundreds of ecommerce sellers, who use the service to streamline order processing, payments, returns, and inventory tracking. Merchants utilizing their platform are able to seamlessly list their products on dozens of marketplaces through one central portal. With over $1 billion of online sales annually processed through its merchant network and 1,000+ Amazon merchant accounts representing 3% of the Third Party Marketplace, SellerCloud has unparalleled insight into the pulse of the online marketplace. Schedule a free demo of the SellerCloud platform at https://www.sellercloud.com/request-demo