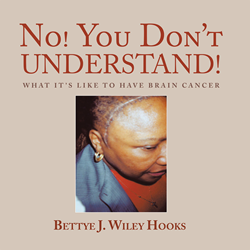 HILLSIDE, N.J. (PRWEB) August 21, 2017
After U.S. Senator John McCain's own diagnosis with brain cancer, author Bettye J. Wiley Hooks hopes to help improve public understanding of the disease. Hooks has released her inspiring memoir, "No! You Don't Understand! What it's Like to Have Brain Cancer," about her battle with brain cancer and what she learned along the way. She now wants to spread her positive message to those struggling with the disease that there is hope and help.
In her compelling recollection, Hooks discovers how the power of actively discussing the disease with others allowed her to see that she did not have to struggle alone.
"I want to help save lives and I believe we need to talk about brain cancer as there is such a stigma around it," said Hooks. "I'm also an advocate for early detection. Listen to your body and see a doctor when something is off. People need to understand that they don't have to be alone in this."
"No! You Don't Understand!" focuses on Hooks' recovery from brain cancer and provides information on the medical team who helped save her life. She also shares the stories of other survivors and dedications to those who did not survive.
Hooks now actively aids others dealing with the disease. A portion of the proceeds from the sale of her book will be donated to those who cannot afford cancer medication. To learn more please visit http://www.bettyewileyhooks.com/
"No! You Don't Understand! What it's Like to Have Brain Cancer"
By Bettye J. Wiley Hooks
ISBN: 978-1-5245-8867-0 (Softcover), 978-1-5245-8868-7 (Hardcover),
978-1-5245-8866-3 (EBook)
Available at Amazon, Barnes & Noble, Xlibris Bookstore
About the author
Bettye J. Wiley Hooks worked over 34 years in the Education Field before retiring in 2011. A very active member in her community, Hooks co-founded the Hillside Victory Community Garden, teaching children and youth how to grow organic produce which is then donated to the Hillside Foodbank. Hooks has been a member of Union Chapel AME in Newark for over 49 years. She lost her younger brother to cancer a few years before her own diagnosis and not a day goes by that she doesn't miss him. Hooks wants to reach other survivors and those dealing with any type of cancer. She was married to the late Joseph J. Hooks, has two adopted children and four grandchildren. She resides in Hillside, New Jersey.
Review Copies & Interview Requests:
LAVIDGE – Phoenix
Lauren Dickerson
480-998-2600
ldickerson(at)lavidge(dot)com