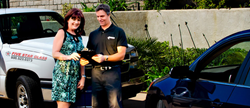 DFW Metroplex, TX (PRWEB) August 22, 2017
Five Star Glass is new to the Texas market, but is proudly managed by widely recognized All Star Glass. They provide repair and replacement of auto glass for most makes and models, in Grand Prairie, TX, located in the center of the DFW Metroplex, the fourth largest metro area in the USA.
They have been a family owned business for the past 40 years with 32 convenient locations in Texas, Nevada and California resulting in over 5,000,000 satisfied customers. The call center is available 24/7 to set up appointments with free mobile service to one's home or office – complete with free glass vacuum and clean up.
Five Star Glass can handle all auto glass needs, including windshield repairs, windshield replacement, doors, vents, quarters and back glass for trucks or autos of all sizes.
When one needs a new windshield, the consumer wants to be sure that the vehicle is taken to a provider with experience and a solid safety record. It is estimated that 70%-75% of windshields are not replaced correctly. The customer and family's safety depends on a qualified auto glass provider such as Five Star Glass.
Five Star Glass is a proud member of the Auto Glass Safety Council (AGSC), who helps support and maintains SAFETY in our industry! All of the auto glass technicians have been tested and certified by the AGSC.
Five Star Glass is proud of its safety record, both for their customers and for their employees. They use quality products such as 30 minute safe drive away time adhesives and OEM Quality auto glass. They have certified and experienced auto glass technicians who have passed background checks and who continue to be trained to maintain the highest level of safety.
Get a free personalized auto glass quote by calling FIVE STAR GLASS at 800-523-0373 to schedule an appointment.