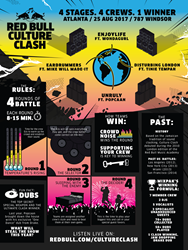 Atlanta, GA (PRWEB) August 21, 2017
RED BULL CULTURE CLASH ATLANTA
4 Stages - 4 Crews - 1 Winner: Culture Clash Heads to Atlanta August 25

EarDrummers ft. Mike WiLL Made-It
Enjoylife ft. WondaGurl
Unruly ft. Popcaan
Disturbing London ft. Tinie Tempah
Additional Crew Members Announced Including Rae Sremmurd
DJ Drama to Host the Live Event
RED BULL RADIO: LIVE FROM ATLANTA
Weeklong Broadcast from DJ Drama's Means Street Studios
Featuring Bruh with Awful Records, Peak Time & More
Stream Red Bull Culture Clash via Red Bull Radio
Live Broadcast Hosted by Federation Sound's Max Glazer & the Atlanta Hawks' Sir Foster
RedBull.com/CultureClash || #CULTURECLASH
ATLANTA, GA (August 21, 2017)—4 Stages. 4 Crews. 1 Winner. Red Bull Culture Clash heads to Atlanta this Friday, August 25. The world's biggest music battle is inspired by Jamaican sound clashes and will feature four crews of musicians and producers—EarDrummers featuring Mike WiLL Made-It, Enjoylife featuring WondaGurl, Unruly featuring Popcaan, and Disturbing London featuring Tinie Tempah. The crews will bring exclusive music, special guests, surprises and more to win the crowd's support, and the competition will be hosted by mixtape master DJ Drama. Music fans around the globe can hear all of the performances and surprises from the Atlanta event live on Red Bull Radio http://www.redbullradio.com.
Red Bull Culture Clash debuted during the 2010 London edition of the Red Bull Music Academy, bringing together the past and future of sound system culture. Culture Clash has a history of heavyweight competitors including A$AP Mob, Major Lazer, Wiz Khalifa & Taylor Gang, Just Blaze & Young Guru and last year's UK winner Mixpak—who dropped a dubplate of Drake's "One Dance" that made the rounds online instantly. With past surprise guests including Usher, 2 Chainz, Robin S, DMX, and Danny Brown—the event is not-to-be-missed for music fans.
While most of the guests will remain a surprise for the big night, the leaders of each crew have announced a few of the names that will be joining them on stage this Friday. Atlanta's EarDrummers will feature Mike WiLL Made-It, who is sure to pull out all the stops for this hometown event. He's one of the most in-demand producers in music right now, producing hits like Kendrick Lamar's "DNA" and "Humble," Rae Sremmurd's "Black Beatles," and Beyonce's "Formation"—and is set to be joined by Rae Sremmurd's Slim Jxmmi and Swae Lee, DJ Cash, DJ Osh, Eearz, Jace of Two-9, Aubz and Bwrightous
Canadians are known for being nice but Enjoylife—led by production whiz WondaGurl (Jay-Z, Drake, Rihanna, more)—will be ready to fight. The Toronto-based producer will be joined in battle by Southside, TM88, Nessly, Rich Kidd and Bluxz.
Popcaan was part of last year's winning Culture Clash UK crew, and his Unruly crew will bring serious Caribbean heat to the battle in Atlanta. Representing Jamaica, the birthplace of the sound clash, Popcaan will be joined by Squid, Jabba, Jazzy T, Sir DJ Corey, Petro and Kamar Petrekin.
The final crew is Disturbing London featuring Tinie Tempah. From Laos to London, the crew will bridge their Nigerian roots to bring fierce competition to Culture Clash Atlanta. Tinie is set to team up with Charlie Sloth, Yxng Bane, Yungen, A2, DJ Charlesy and Mr. Play.
Red Bull Radio will also broadcast live from Atlanta's Means Street Studios starting today, Monday, August 21, getting fans warmed up for the Culture Clash. Tune in all week to hear Red Bull Radio's daily live show Peak Time at 12pm ET, where Vivian Host will welcome some of Atlanta's brightest musicians including Gunna and Prado Bans, Dallas Austin, Cindy Wilson from the B-52s and Seth Firkins and will preview Culture Clash with crew interviews and music. The broadcast will also feature live episodes of Bruh with Awful Records, with Zack Fox picking the brains of a diverse cast of special guests including Adult Swim's Jason DeMarco and Atlanta's hottest young photographer Gunner Stahl.
The weeklong Atlanta broadcast will also feature new episodes of Red Bull Radio's premiere interview series Fireside Chat, and Headphone Highlights—where artists reveal their favorite tracks on high rotation. Guests will include Nicole Wray, Alex Tumay and Richard Devine, as well as Culture Clash crew leaders Popcaan, WondaGurl and Mike WiLL Made-It.
Red Bull Radio is also set to take fans inside Culture Clash for a special live broadcast hosted by The Federation Sound's Max Glazer and Sir Foster—the Atlanta Hawks' organist and the most celebrated in-game musician throughout the NBA. Tune in starting at 8pm ET to hear the Culture Clash pre-show featuring live interviews, crew breakdowns and more, with the main event kicking off at 9pm ET.
Four crews, one champion – may the best sound win!
###
About Red Bull Music Academy
The Red Bull Music Academy is a global music institution committed to fostering creativity in music. We celebrate music, its culture, and the transformative minds behind it. Since 1998, the Academy has taken the core principles from its annual workshop for selected participants and applied this curatorial approach to events, lectures, and citywide festivals throughout the year.
20 years after the first edition in Berlin, the Red Bull Music Academy will return to the German capital in 2018. Music-makers from all over the world are invited to apply between June 15 and September 4, 2017 at apply.redbullmusicacademy.com.
More than 1,500 musical luminaries have participated in past incarnations of the Red Bull Music Academy. Former lecturers include Brian Eno, Philip Glass, Erykah Badu, Ryuichi Sakamoto, D'Angelo, George Clinton, Nile Rodgers, Frankie Knuckles, Giorgio Moroder, Questlove, Steven O'Malley, Rakim, RZA, Steve Reich, M.I.A., and pioneering synth inventors Bob Moog, Tom Oberheim, Don Buchla, Roger Linn, Dave Smith, amongst many others. Plenty Academy alumni have gone on to become true figureheads of their scenes like LA soul singer Aloe Blacc; experimental electronic music producer and beat music innovator Flying Lotus; Hudson Mohawke, the Scottish producer behind the beats of Drake and Kanye West; and UK singer Katy B, who championed the sound of London's dubstep, funky and garage. Other notable alumni include Nina Kraviz, Jamie Woon, TOKiMONSTA, Jackmaster, Andreya Triana, Axel Boman, Evian Christ, Deradoorian, Objekt, Onra, and Krystal Klear.
The Red Bull Music Academy has been pairing music legends and emerging beatsmiths since 1998 in cities such as Berlin, Cape Town, Melbourne, Barcelona, Rome, São Paulo, London, Tokyo and New York City. This unique combination of old school knowledge and new school sounds is unrivalled for its creative exploration and achievement. Each Academy edition leaves behind structures to encourage musical collaboration and creative exchange for years to come. Currently there are twelve fully equipped Red Bull Studios around the world.
Join the Conversation
facebook.com/RedBullMusicAcademy
twitter.com/RBMA
instagram.com/rbma
#RBMA @RBMA
About Red Bull Radio
Since its first broadcast in 2005, Red Bull Radio has grown into a leading destination for music discovery, offering an unrivaled selection of in-depth interviews with the great musical thinkers of our time, exclusive mixes, documentaries, broadcasts from clubs and festivals and daily reports from the most exciting music scenes around the world. Red Bull Radio is a 24-hour linear broadcasting service that brings local music scenes to a global audience, with programming from 40 countries and shows hosted by a globe-spanning network of music journalists, artists and collectives, including the likes of Earl Sweatshirt, Tune-Yards, Dam-Funk, Chelsea Wolfe, The Gaslamp Killer, Gerd Janson, Stephen O'Malley, Nina Las Vegas, Mixpak, Teklife, Awful Records and many more. http://www.redbullradio.com
Join the Conversation
facebook.com/RedBullRadio
twitter.com/RBMARadio
instagram.com/redbullradio
http://www.RedBull.com/CultureClash
#CultureClash
For additional information on Red Bull Culture Clash Atlanta, contact:
Stacey Gamble / Red Bull Media House
Stacey.Gamble@us.redbullmediahouse.com - 770.626.6201
Shazila Mohammed / MotormouthMedia
shazila@motormouthmedia.com - 917.697.9996
Evan Seymour / The Purple Agency
evan@thepurpleagency.com - 626.344.6131