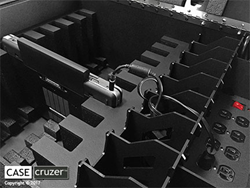 Since blended learning practices are becoming more popular, we want to support the trend. School systems and educators make a large investment in hardware. Our mission is to keep it safe, yet accessible
Montclair, CA (PRWEB) August 22, 2017
CaseCruzer applauds educators and school leaders for adopting learning that blends the very best online and classroom experiences. Whether students live in the cloud or embrace traditional group methods, laptops and the education they facilitate need the assistance of the new Chromebook Charging Station 8 Pack to stay charged and protected.
The Chromebook Charging Station 8 Pack, for starters, refreshes up to eight laptops simultaneously overnight. When K-12 students arrive the next morning in a flipped classroom, their digital tools are integrated, and they can quickly view online lectures and access vital course content.
The new 8 Pack accommodates Chromebook brands such as Dell, HP, Lenovo and Samsung. The compact charging station provides vertical, individual saddles that prevent laptops from slipping sideways. Technology Directors and Teachers can recharge hardware during classroom activities or educational events at other locations.
Blended education environments also benefit from a Protect 'N' Charge security system. Whether storing overnight or traveling, the Chromebook Charging Station solution includes a double lock-down system that stops theft. The first layer of defense secures the laptops with padlocks while the exterior lid is open for classroom use. The second layer or exterior, is comprised of stainless steel flanges that make the lid and base pad-lockable.
"Since blended learning practices are becoming more popular, we want to help support the trend. School systems and educators make a large investment in hardware. Our mission is to keep it safe, yet accessible," says Tatiana Briceno, CaseCruzer Marketing Director.
CaseCruzer Chromebook Charging Station 8 Pack can be stacked —5 units high—and stored in a closet. Multiple handles and embedded wheels allow Teachers and IT support personnel to swiftly roll laptops between classrooms, or travel by plane, train or van without worry of damage from vibrations and hard knocks.
Chromebook mobile charging stations also go where typical transport carts cannot. They easily fit into school vehicles and can be pulled up and down inconvenient staircases without stress. Setup is a breeze for educators and students. Just plug the charger and cable into the safe 110V AC power strip. Each Chromebook Charging Station 8 Pack unit comes with a lifetime warranty because instructional methods continue to evolve.
Exterior dimensions are 33.75"L x 28.50"W x 16.50"H and the unit weighs 64 lbs. It also includes an ambient pressure equalization valve, high-quality latches, and O-ring seal that make the station watertight, airtight and dustproof. Proudly made in the USA. This Ez-Pack 'N' Ship product is safe to transport via airlines, FedEx and UPS. All units are available in black only.
CaseCruzer agrees that more choices and responsibility for learning helps students and teachers grow and roll towards the future.
CaseCruzer offers a wide array of products within the electronics and technology markets such as tablet charging stations; rack & hard drive cases; as well as other solutions to meet the needs of IT and MIS professionals. For more information on the Chromebook Charging Station 8 Pack, please visit http://www.casecruzer.com; call (800) 440-9925 in the U.S. or (909) 613-1999 internationally; fax (909) 613-1979; or write to CaseCruzer at 4665 State Street, Montclair, CA 91763.