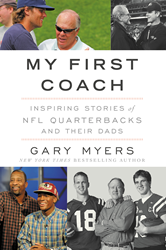 Myers is one of the best NFL insiders in the business
NEW YORK, NY (PRWEB) August 22, 2017
From the NY Times bestselling author of "Brady vs. Manning" and Dean of Football writers, Gary Myers, comes his new book "MY FIRST COACH: Inspiring Stories of NFL Quarterbacks and Their Dads" (Grand Central Publishing). In a world of competitive sports that begins at an early age with equally competitive parents, is there a blueprint for raising a winning NFL Quarterback?
MY FIRST COACH goes behind the scenes to explore the unique and dynamic relationships, as well as parenting styles between some of the most famous NFL Quarterbacks and their dads including: Tom Brady, Derek Carr, Eli and Peyton Manning, Jim Harbaugh, Joe Flacco, Joe Montana, John Elway, Phil Simms, Jameis Winston, and Ryan Fitzpatrick. Through extensive interviews, Myers learns how they took advantage of or overcame their relationships with their fathers to become the NFL legends they are today.
Myers queries: Can young athletes overcome helicopter parents? How did the kids with NFL aspirations deal with their fathers who'd already made it? What kind of pressure did they have to overcome? What kind of pressure did the father who succeeded put on his son to be an athlete? Would the expectations be lower and the results greater if the father was an attorney or doctor? Was it better for the fathers to be overbearing, or borderline disinterested.
Joe Montana is considered by many to be the greatest quarterback of all time, but his two sons bounced around college football with limited success. Jameis Winston's father supported his family working overnight highway construction in Alabama. Archie Manning played fourteen years in the NFL and never made the playoffs, but his sons Peyton and Eli won a combined four Super Bowls. Tom Brady's father is an estate planner. Jim Harbaugh's father had a long career as a college coach. Derek Carr's father moved the family to Houston after Derek's older brother, David, was drafted by the Texans. Phil Simms details how he overcame an alcoholic father to find success in the NFL and fatherhood..
Mike Tirico, Host of NBC'S Thursday Night Football says, "Gary's decades of covering the NFL and his unique relationships with the biggest names in the game make him the perfect person to tell the story of these NFL legends." While Bob Costas, NBC Sports, and Curtis Martin, Pro Football Hall of Fame Class of 2012 and Fourth leading Rusher in NFL History said, "Myers is a respected and trusted writer by players for the integrity of his stories."
Myers was inspired to write this book by his son, Andrew, based on their own special relationship in the roles of athlete and coach. MY FIRST COACH is an insightful and educational read for all of the up and coming athletes, their parents, and sports fans in general.
"All the practices and all the games over the years are always worth it no matter what," says Myers. "Forget the Super Bowls when it's your own kid. The postgame hug will last a lifetime."
Books are available online and in bookstores.