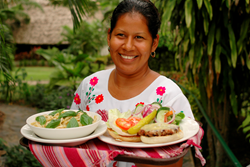 Our guests respond positively when they hear that ten cents of each dollar they spend on accommodation goes directly into projects that benefit the land and people of Belize
San Ignacio, Belize (PRWEB) August 22, 2017
With Christmas vacations in Belize growing in popularity, The Lodge at Chaa Creek is once again inviting families, couples, groups of friends and individuals to join them in a yuletide celebration that features all the traditional holiday trimmings and what the popular Belizean eco-resort's owners call "the gift of giving" – support for the environment and local communities.
Mick and Lucy Fleming, whose Belizean Christmas get-togethers have become a tradition for many people worldwide over the last thirty-five years, said this year they are inviting guests to enjoy the best that Belize has to offer while "giving something back to the land and the people who make Belize such a wonderful experience."
"Once again we'll be asking guests to join us in decorating our Christmas tree, singing carols, exchanging gifts and feasting," Lucy Fleming said, "And this year, in the true spirit of Christmas, we're adopting the theme of 'The Gift of Giving'."
And the best part, she said, is that simply by staying at Chaa Creek, travellers will be making the Christmas holidays a bit brighter for deserving Belizeans this year.
Under the "Chaa Creek Cares" initiative, ten percent of all room revenue goes directly into programs and projects that benefit Belize's environment and communities, and combines with other programs the Flemings have in place to "foster a deeper, more positive connection between visitors and the people of Belize".
Chaa Creek also sponsors the "Pack-a-Pound" initiative that helps needy Belizean school children by having participating visitors pack a pound of school supplies in their luggage or post it when they return home. Over one thousand pounds of educational materials have been distributed among twenty-five Belizean schools through the program.
With the annual "Eco-Kids Free Environmental Education Sumer Camp", twenty-four young Belizeans receive an intensive, fun filled weeklong learning experience with all accommodation, meals, arts and craft supplies, teachers and counsellors donated by Chaa Creek. Scholarship, mentoring, sports programs and other assistance is also provided through Chaa Creek Cares.
And it's not just young people who benefit from Chaa Creek vacations – the eco-resort also provides assistance for the elderly. Guests might enjoy their Christmas dinners a little bit more knowing that residents of the Octavia Waight aged care home will also be enjoying Christmas dinners courtesy of their stay at Chaa Creek.
"Our guests always respond positively when they hear that ten cents of each dollar they spend on accommodation goes directly into projects that benefit the land and people they invariably come to love during their vacations here, and this feels especially true during Christmas time," Ms Fleming said.
"Belize has this wonderful tradition of what's called, 'Hand Wash Hand', which means everyone looks out for each other. Since the early days as a remote British outpost and later, as a developing country, cooperation has always been a necessary, essential part of the national character, and that's something our guests like to be associated with.
"Since we began, many visitors expressed a desire to show their appreciation and give something back to Belize, and 'Chaa Creek Cares' was developed as a way to help them do that effectively and effortlessly," she said.
Chaa Creek, awarded with first place honours for engaging communities at the 2017 National Geographic World Legacy Awards held in Berlin, is recognised as Belize's leading advocate for sustainable tourism, and has received awards and recognition from Green Globe, Green Travel, TripAdvisor and other organisations for commitment towards responsible travel.
Ms Fleming said that one of her and her husband's primary goals has been to show that Green, sustainable tourism does not need to compromise luxury and service.
Situated in the midst of a 400 acre private nature reserve on the banks of the Macal River below the foothills of the Maya Mountains, The Lodge at Chaa Creek boasts Belize's widest range of accommodations, from the rustic Macal River Camp to the luxurious Ix Chel Villas featuring a private rainforest setting with views enhanced by floor to ceiling glass walls and windows fronting out onto expansive verandas containing Jacuzzis, personal plunge pools, al fresco dining and the attention of a personal butler.
There's also the artistically appointed cottage collection and a selection of suites and villas, as well as amenities that include a fine dining restaurant featuring farm-to-table cuisine with fresh produce from the onsite traditional Maya organic garden, an infinity pool, full service Hilltop Spa, Belize Natural History Museum, butterfly breeding facility and more. Activities include canoeing, horseback riding, river and jungle safaris, daytime and evening guided nature walks, professional birding and more.
Ms Fleming said Chaa Creek's sustainable tourism component is purposely unobtrusive.
"The primary reason people come on vacation is to enjoy themselves, to relax, recharge and reconnect to each other, themselves and nature. If you can provide all that, and with exquisite dining, healthy activities, impeccable service and do it in a way that actually benefits the environment and local communities, that's what we call success.
"And at Christmastime we call it the 'gift of giving' because it, like all great gifts, it makes people – including our guests and local Belizeans - feel good," Ms Fleming said, "It's the essence of sustainable-tourism meets the true spirit of Christmas, and to us, that's an ideal combination," she added.
The Lodge at Chaa Creek is a multi-award winning eco resort set within a 400-acre private nature reserve along the banks of the Macal River in Belize. It was recognised by National Geographic with first place honours at the 2017 World Legacy Awards held in Berlin.
ENDS