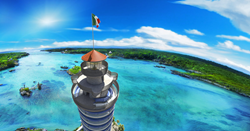 "Sometimes you don't need to look up to find heaven," says Miguel Quintana Pali, creator of Xel-Há Scenic Lighthouse.
(PRWEB) August 21, 2017
The newest attraction at Xel-Há, the ultimate park for nature lovers, is offering a breathtaking, unique view of the Riviera Maya. The Scenic Lighthouse offers the most spectacular views of the Riviera Maya in a completely natural environment.
The lighthouse offers an unparalleled view of the magnificent Xel-Há cove, a 34-acre body of water facing the Caribbean Sea. This special place is fed by the fresh water from underground rivers and the warm saltwater of the sea. A 360 degree view allows visitors to appreciate the greenery of the Mayan jungle, the sea life of the inlet and the shades of blue of the Caribbean Sea.
The Xel-Há lighthouse serves as a symbolic reference to maritime navigation and features four open waterslides at more than 98.5 feet high, which takes adrenaline junkies on an exciting spiral descent into the crystal clear waters of a natural pool. The $43 million scenic lighthouse offers visitors an out of the ordinary view and an exciting water attraction.
"Sometimes you don't need to look up to find heaven," says Miguel Quintana Pali, creator of Xel-Há Scenic Lighthouse.
For almost 30 years, Pali has developed unique tourism concepts that take advantage of the natural wealth of the Yucatan Peninsula.
Pali's creative genius has led him to develop Xcaret, Xel-Há, Xplor, Xplor Fuego, Xoximilco and Xenotes tours which draw more than three million tourists to the parks each year. Pali broke traditional theme park paradigms and instead focused on arousing the minds and senses of its visitors with his most recent project, Xenses.
This addition to Xel-Há adds new fun to the park but will also maintain the essence of what that has characterized this park for the last 23 years: a place of natural wonder where you can snorkel and explore while receiving the highest quality of services and food.
ABOUT XEL-HÁ
Xel-Ha, a unique natural wonder where seawater and water from underground rivers mix, is a place of stunning beauty and marine life where you can experience the best snorkeling that Experiencias Xcaret has to offer. Discover amazing jungle trails, spectacular views, natural attractions, tranquil rest areas, and world-class gourmet restaurants. Xel-Ha is an all-inclusive park where nature harmonizes with incredible water and land activities.
FOR MORE INFO:
Iliana Rodríguez
Grupo Experiencias Xcaret
irodriguez(at)experienciasxcaret.com.mx