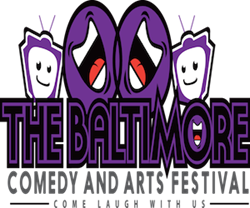 Come Laugh With Us
Baltimore, Maryland (PRWEB) August 22, 2017
The Baltimore Comedy and Arts festival at the Pimlico Race Track on September 16th is Baltimore's premier festival featuring the best that Baltimore has to offer.
The festival was started by two college seniors who noticed a severe lack of quality family friendly entertainment in the greater DC, Maryland, and Virginia area for an affordable price.
The Baltimore Comedy and Arts Festival has partnered with CBS Baltimore and The James Hollister Wellness Foundation to make sure they have the ability to put out the best product possible. The festival will feature some of the best musicians and comedians from the DMV area to showcase just how talented the DMV is. Featuring Stacey Prussman from the Emmy award winning show Best Places to Live, Tha Shadoz a six time Grammy Ballot nominated rap group, and Blest Jones an up and coming artist who is just rapping up his world tour with Sony Asia, and many more musicians and comedians.
The founders of the festival believe strongly in giving back and have partnered with a local charity that wants to help on a global level. The James Hollister Wellness Foundation will receive part of the proceeds from the festival. With donations, they receive the JH Wellness Foundation plans to help bring the proper medications to third world countries to help the people who can't afford or don't have access to the proper medications that they need.
The Baltimore Comedy and Arts Festival will also feature many great activities like a comedy class, public speaking class, face painting, and LuLa Roe.
If you have a big appetite than you will love the food vendors that will be present at the festival. In attendance will be The Goganics who are known for their healthy organic menu, Green Grass Tall Trees who will bring a Caribbean flare, and Quinn's Ice who's line of ice cream will have you melting.
The Baltimore Comedy and Arts Festival has one goal and it is to put on the best show possible at an affordable price. So that everyone can come laugh with us.