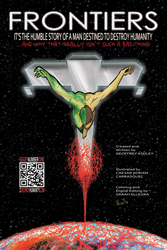 (PRWEB) August 21, 2017
Frontiers, winner of the "Best of Los Angeles" Award for "Best Cyberpunk Comic Book Series," is taking its new issue to the Long Beach Comic Con, September 2 and 3 at the Long Beach Convention Center. Los Angeles burlesque star and fine art model, Katy Bunny will be appearing with creator and writer Geoffrey Ashley to greet the fans.
"At so many of our appearances, Katy is the smiling face of Frontiers," Ashley said. "She's our number one ambassador and so great with people. She'll be meeting and greeting LBCC attendees, saying hello to old Frontiers fans and friends and converting new ones!"
She is a go-to model for internationally-famous fashion photographer David LaChapelle and a professional burlesque dancer in Los Angeles performing regularly with Cabaret Le Fey," "The Doll Face Dames" and "More Than No's Cabaret Con-Sensual." And she's a perfect fit for the bawdy sensibility of FRONTIERS.
Often described as a "PULP FICTION STAR WARS", Frontiers tells the sex, violence and sarcasm-fueled story of Kieran Murphy, a man who is destined to destroy humanity...and why that really isn't such a bad thing.
It is available for digital download at COMIXOLOGY.COM (https://www.comixology.com/Frontiers/comics-series/94749?ref=c2VhcmNoL2luZGV4L2Rlc2t0b3Avc2xpZGVyTGlzdC90b3BSZXN1bHRzU2xpZGVy) and through the FRONTIERS website at http://idestroyhumanity.com./