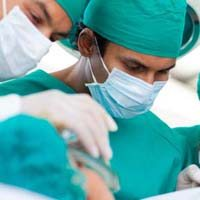 Stratified analysis revealed that surgery-based multimodality therapy demonstrated an improved survival...
Raleigh, NC (PRWEB) August 21, 2017
A 10-year study conducted by MD Anderson Cancer Center finds that a combination of cancer-directed surgery, chemotherapy, and radiation offers the best odds of surviving malignant mesothelioma. Surviving Mesothelioma has the full details. Click here to read the article.
The study was based on mesothelioma data from the National Cancer Database between 2004 and 2014. For comparison purposes, the study included more than 6,600 mesothelioma patients who were matched with another group of patients with similar characteristics.
"Stratified analysis revealed that surgery-based multimodality therapy demonstrated an improved survival compared with surgery alone," writes lead author and thoracic surgeon David B. Nelson, MD.
The article, published in a recent issue of the Journal of Clinical Oncology, says that people with the epithelioid form of pleural mesothelioma saw their survival extended from an average of 14.5 months to 23.4 months with surgery-based trimodality therapy.
"Mesothelioma is a rare and difficult cancer to treat, especially because there is no clearcut therapy that works well," says Alex Strauss, Managing Editor for Surviving Mesothelioma. "This data may help mesothelioma patients and their clinicians make more informed decisions about surgery versus other options."
You can read all of the details of this trimodality treatment study for pleural mesothelioma in 10-Year Study Confirms Longer Survival with Trimodal Mesothelioma Therapy, now available on the Surviving Mesothelioma website.
Nelson, DB, et al, "Long-Term Survival Outcomes of Cancer-Directed Surgery for Malignant Pleural Mesothelioma: Propensity Score Matching Analysis", August 17, 2017, Journal of Clinical Oncology, Epub ahead of print, http://ascopubs.org/doi/abs/10.1200/JCO.2017.73.8401
For more than a decade, Surviving Mesothelioma has brought readers the most important and ground-breaking news on the causes, diagnosis and treatment of mesothelioma. All Surviving Mesothelioma news is gathered and reported directly from the peer-reviewed medical literature. Written for patients and their loved ones, Surviving Mesothelioma news helps families make more informed decisions.