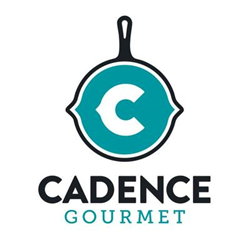 Cadence Gourmet is one of the innovative technology companies changing the perception of frozen food.
LOS ANGELES, CALIFORNIA (PRWEB) August 22, 2017
What if you never again stressed over what to make for dinner? Even better, what if you could prepare delicious, gourmet food in the comforts of your own kitchen, and your dinner could even be ready in 10 minutes?
Cadence Gourmet is a frozen "food-tech" company that makes such food, and it could soon be available at a grocery store near you, thanks to a personal investment from seafood pioneer and founder of Rubicon Resources, Brian Wynn.
Mr. Wynn said, "I was initially skeptical of frozen food. But after tasting the cuisine and seeing the technology in person, I was convinced that its potential was enormous. Of course, the biggest litmus test was that my wife, our children, and our friends have all fallen in love with the recipes. Everyone is shocked that such high-quality food can also be so easy to make. Cadence Gourmet is one of the innovative technology companies changing the perception of frozen food."
Cadence Gourmet began in the foodservice industry, helping national restaurant chains. For example, whenever restaurants had locations spread across the country, they would often struggle with food consistency. At some locations, salsas would wind up being too spicy or pasta salads being too bland. This usually resulted in wasted money and unhappy customers. David Wells, Cadence Gourmet's CEO and a food industry veteran, recognized that new freezing technology could replicate expert culinary skill across a wide platform and solve this pervasive problem.
Starting with one marquee restaurant chain, the Cadence Gourmet team began replacing the most problematic food items with consistently better-tasting frozen alternatives. Leveraging an advanced "enrobing" process, the team batched sauces, spices, and ingredients, before using liquid nitrogen to flash freeze the food; this led to a truly fresh, frozen product. No longer needing to make each dish from scratch, restaurant locations could simply heat and serve the food in a matter of minutes. Among the frozen replacements, they even perfected the restaurant's popular chicken salad, which consisted of protein, vegetables, and fruit.
With a national footprint in foodservice and a growing list of restaurant clients, Cadence Gourmet was presented with an opportunity to reach consumers more directly, by going into grocery stores. But instead of replicating products for foodservice companies, the Cadence Gourmet team introduced its own signature dishes, ranging from mango jerk chicken and red miso short ribs to a decadent lobster mac' and cheese, on par with high-end steakhouses.
Cadence Gourmet's CEO, David Wells, said, "We have long felt that American households would benefit from the caliber of food that our restaurant clients enjoy. Brian's investment and involvement has opened up new growth avenues, especially in retail. He has been instrumental in rolling out to grocery stores across the US."
The first grocery store to carry Cadence Gourmet's frozen food was Main & Vine, a fresh and local concept from Kroger. The Company has since expanded to nearly 50 select locations, across several states.
David Wells continued, "The results in our initial markets have been tremendous; customers keep coming back again and again. Since the various entrees and sides can be eaten on their own or used as building blocks to construct a more elaborate meal, shoppers like to try out different combinations. But unlike meal kits which perish quickly, our food can be cooked right after you buy it or sit in your freezer for months until you're ready to eat. It's like the TV dinner for the Netflix world."
Terms of the deal were not disclosed, but Brian Wynn has joined the Company's board of directors as its chairman.
About Cadence Gourmet
Cadence Gourmet is a frozen food-tech company, based in Los Angeles, California. By combining culinary expertise and an advanced liquid nitrogen-based freezing process, the Company is able to create delicious frozen food that is ready to eat in about 10 minutes. Cadence Gourmet began in the foodservice industry, helping national restaurant chains ensure consistently high-quality food for their customers, across all locations. The Company also creates its own signature dishes, which can be purchased and cooked right away or stored in a home freezer for months on end. Such dishes help comprise Kroger's "Easy For You!" program, located in the meat and seafood area of select grocery stores.