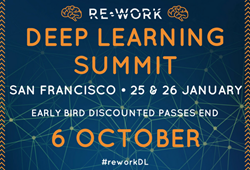 Gaining insights on what other researchers have been working upon is always exciting. Networking opportunities were plenty. The overall experience was great.
San Francisco (PRWEB) August 22, 2017
Attendees are free to attend sessions across all tracks, providing a diverse agenda to explore.
Track 1: Deep Learning Summit
Recent advancements in Deep Learning are creating a pathway for new technologies, and the impact of AI on real world problems is becoming ever more prevalent. Ian Goodfellow from Google Brain, recently listed on MIT's 35 Innovators Under 35, who will be presenting his research at the Summit, said that 'Machine learning is always held back by limitations in the amount of computation we can use. The new Google TPU helps to bridge the gap between the amount of computation we can leverage in deep learning experiments and the amount of computation used in a biological nervous system.'
Joining Ian on the Deep Learning track is Yves Raimond, Director of Machine Learning Research at Netflix who will explore the deep learning methods applied to personalization and recommendations. Netflix have recently published research in this space and will discuss it in detail before revealing promising new research.
Our goal at RE•WORK is to bring together industry experts, CEOs, Data Scientists, Startups, and researchers working in AI, from varying levels of technical knowledge. Earlier this year we heard from Jacob Miller, Lead Programmer from Circle Computer Resources who attended the summit:
"I'm new to deep learning. Just being able to interact with other attendees and finding my place in deep learning was highly valuable."
As well as networking with other attendees it's not uncommon for startups and more experienced industry professionals to connect around their research and ideas.
Also joining the agenda is Daphne Koller, Chief Computing Officer at Calico Labs, and Co-Chair of the Board and Co-Founder of Coursera, the largest platform for massive open online courses (MOOCs). Daphne will share her current work at Calico Labs to leverage deep learning to identify a key point of interest: how we can live longer and stay healthier. Calico Labs, a research and development biotech company, is on a mission is to understand the biology of aging with the goal of combating aging and associated diseases. There are many aspects of scientific research and medical practice where AI and DL can play a critical role, and Daphne explained that 'Levering AI techniques can help medical professionals by providing tools to help them synthesize the most important information they need.'
Additional speakers confirmed include Andrej Karpathy, Director of Artificial Intelligence, Tesla; Bjarke Felbo, Research Assistant, MIT; Waleed Ammar, Research Scientist, Allen Institute for Artificial Intelligence; Eli David, CTO, Deep Instinct.
Track 2: AI Assistant Summit
As AI improves and models become more and more human-like, it's easy to forget that we're conversing with machines on a daily basis. We use Siri, Cortana, Alexa and countless other intelligent assistants as well as interacting with online chatbots. Whilst these interactions have improved hugely since their conception there are still obstacles that prevent users having experiences that they want to continually engage with. At the AI Assistant Summit we will hear from experts who are working to combat this and create the most human-like personalized bots to optimize efficiency and save money.
Working to overcome these barriers are Autodesk who aim to provide a 'seamless blend of digital and human support across all Autodesk help properties', and in January, we will be joined by Engineer, Nikhil Mane. Nikhil will discuss how since launching AVA in February, it continues to learn from chat conversations with customers and provides personalized interactions with customers to meet their needs more efficiently. Nikhil will explain how Autodesk are using a combination of machine learning and data analysis to develop and continuously improve the intelligent agent and how the development model changes for conversational interfaces.
Also presenting at the summit is Rushin Shah, Engineering Leader at Facebook, previously the natural language understanding chief for Apple's Siri, who will share his expertise on natural language dialogue and optimising AI assistant efficiency. Working on a product that has the potential to impact over a billion users every day, Rushin will share the challenges Facebook face in implementing machine learning in their assistants.
Additional speakers confirmed include Andrew Magliozzi, CEO & Co-Founder, AdmitHub; Deepti Yenireddy, CEO & Founder, My Ally; Ivan Crewkov, CEO & Co-Founder MyBuddy.ai; with many more coming soon.
Track 3: Deep Learning for Enterprise Summit
As deep learning is becoming more accessible, smaller companies are increasingly keen to be a part of this growing landscape. At the Deep Learning for Enterprise Summit we will hear about the practical applications of deep learning to your businesses and reveal new insights to optimize efficiency.
As data science has become increasingly popular, many organizations rush to hire ML experts without laying the proper foundation to ensure their success, and Amy Gershkoff, Chief Data Officer from Ancestry will share her work in the field, and unpack the question 'Is your organization ready for ML?' She will discuss how organizations can prepare for success, as well as 'how candidates can diagnose whether the organization is truly ready for ML.'
Businesses of all sizes are capable of benefiting from deep learning, and Vicki Cheung from OpenAI will be sharing her current work at the research company that 'aims to promote and develop friendly AI in such a way as to benefit humanity as a whole'. In her recent paper, 'Infrastructure for Deep Learning'', Vicki explored the use cases of deep learning and explains how OpenAI's infrastructure aims to maximize the productivity of deep learning researchers, allowing them to focus on the science. In San Francisco, Vicki will share her most recent work and research in the space.
Additional speakers confirmed include Nikita Lytkin, Machine Learning Lead, Facebook; Saman Farid, Founder, Comet Labs; and many more to be announced soon.
Early Bird discounted passes are available until October 6, and we are currently offering an additional 25% off passes with the code SUMMER when you register before August 31st. Sign up now to guarantee your place in San Francisco next January.
Can't make it to San Francisco? Join us as our Global Deep Learning Summit Series continues:
Deep Learning Summit and AI Assistant Summit, London, September 21 & 22.
Deep Learning Summit Montreal, October 10 & 11.
Interested in showcasing your startup?
The event provides the perfect opportunity to demo and showcase the latest AI technology and applications. If you know any innovative new companies working in the field, suggest them here.
Someone you'd like to hear from?
If you know of anyone in the industry who you'd like to hear present their research, you can suggest a speaker here.
Any questions? Get in touch!
Media enquiries:
Yazmin, yhow(at)re-work(dot)co
Ticket queries & event info:
Nikita, njohnson(at)re-work(dot)co
About RE•WORK
RE•WORK is an all-female run events organising company that brings together breakthrough technology, cutting-edge science and entrepreneurship shaping the future of business and society. We showcase the opportunities of exponentially accelerating technologies to positively disrupt industry and society.