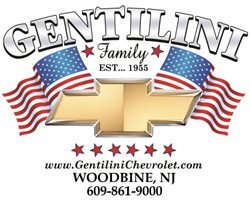 Woodbine, NJ (PRWEB) August 22, 2017
Gentilini Motors, New Jersey's leading Ford and Chevy dealer, isn't just about saving its customers on their vehicle purchases. This family owned and operated business also wants to create lasting relationships with its community and is doing so in August through sponsoring a local event and donating to two New Jersey charities.
Gentilini Motors was a sponsor for the Sixth Annual Woodbine Kids Carnival, which was held Aug. 5 in Woodbine's Lincoln Park on County Route 550. This free event was held from 1-5 p.m. and welcomed children of all ages. Free food, fun, games, gifts and music by DJ Jazmann were enjoyed by all who participated. The carnival also featured arts and crafts, as well as ponies from Ponies by Priscilla.
Special guests at the festival included: McGruff crime dog, Smokey the Bear, Eddie Eagle Scout, Explorers Team, the Spider-Man Mascot, PRAC of Southern New Jersey, K-9 Unit and Mounted Horse Unit from the Sheriff's Department, National Guard Technology Army Simulators, Woodbine Fire Department, Chick-Fil A, Atlantic City Electric, NJ Shares, Woodbine Municipal Alliance, and a many more.
Also earlier this month, Gentilini Motors donated to the Cape Regional Foundation for their Cocktails & Sunset Buffet fundraiser for Cancer Cures, which was held Aug. 11. More information about the Cape Regional Foundation and its mission can be found at their website.
To round out its month of connecting and giving, Gentilini Motors has made a donation to Our Lady of Angels Church in Cape May Court House for their Annual Peach Festival, which is scheduled for Saturday, Aug. 19, and Sunday Aug. 20.
Hours for the Peach Festival are from 2-7 p.m. on Aug. 19 and 9 a.m. to 1 p.m. on Aug. 20. There will be plenty of peach desserts and delicacies to go around, as well as great prizes on the Tombola table. For more information regarding the Peach Festival, please contact Cydney Elsey at 609-886-0657.
About: As a family owned and operated business for more than 60 years, Genitili Motors is a pillar of its community because of its commitment to excellent and quality customer service. Gentilini Motors offers unbeatable deals on Ford and Chevrolet vehicles at its dealerships located off of John S. Penn Boulevard in Woodbine, N.J.