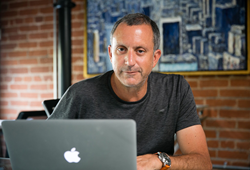 Baltimore, Maryland (PRWEB) August 23, 2017
Charles Street Research today announced the launch of Peloton, a financial newsletter helmed by angel investor, venture capitalist, and entrepreneur Howard Lindzon.
Lindzon, the co-founder of StockTwits and a leader of the FinTech revolution, is widely recognized as one of the most insightful market commentators in America. His guiding mantra "investing for profit and joy" is reflected in the URL for the new service, LaughTradeProfit.com
That's where individual investors will find invaluable intelligence on the next 1,000% stocks, some of which will turn into "8 to 80" brands and companies that form the list we buy when the market's in turmoil and that we're glad to own when the market's trending higher.
When Lindzon sought a publishing partner to broaden the reach of his compelling message, he focused on Charles Street Research and Publisher Shannon Sands because of their proven ability to identify and cultivate large, loyal audiences.
"Peloton" is a cycling term that describes the main group in a race that combines like birds flying in formation. They share resistance to wind, they change shape according to wind patterns, they shift leadership to balance fatigue load. And the peloton travels 40% faster than any single rider can on his or her own.
It's a metaphor for how Lindzon likes to invest: It's all about momentum, trend-following, and sharing ideas. Readers who ride along and participate with Peloton will benefit from his network and experience as well as his proven ability to spot trends and momentum.
The ultimate goal is to be right, make money, and trounce the major equity indexes.
"That's Howard's passion: sharing ideas," said Sands. "He's also fantastic story-teller with a remarkable grasp on the trends that are shaping our culture.
"He wants to share what he's learned with individual investors, to provide insights he's earned (and continues to earn) as an angel investor, venture capitalist, hedge fund manager, and entrepreneur. Peloton is all about sharing and profiting, with a little laughter too."
"I'm a lot of things, but 'marketer' is not one of them," said Lindzon. "At this stage of my career I want to do what so many others have done for me: share ideas."
Peloton is the vehicle Lindzon and Sands conceived that will allow him to share with everyday investors, young and old, all the market knowledge and experience earned over a 26-year career as an entrepreneur, an angel investor, a private equity partner, a hedge fund manager, and a trader.
"Howard's cleverness in the presence of all his brilliant friends and contacts is a sort of genius unto itself," noted "Downtown" Josh Brown of CNBC's Halftime Report. "Since the 1990s he's been at the forefront of picking up on major trends and being early to some of the biggest changes in markets and financial technology. He has consistently kept up to speed with where things were headed. By being open-minded and extraordinarily well connected, he hasn't missed a trick."
Peloton is the right network, with the right insights, offering the right advice.
Read more at LaughTradeProfit.com
Mark Your Calendars: On Tuesday, August 29, at 4 PM ET/1 PM PT, Howard Lindzon will be hosting a live Q&A on Twitter. Send Howard your questions about his flagship financial newsletter or his latest book 8 to 80, using #askhowardlindzon.
About Charles Street Research
Charles Street Research is an independent investment research and publishing firm focused on helping individual investors realize their financial goals.