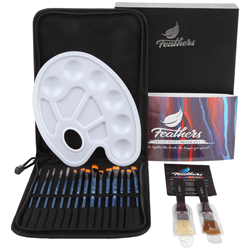 A good review is the best possible reward for a seller
San Francisco, California (PRWEB) August 23, 2017
Despite the latest changes in Amazons terms of service regarding seller communication with customers, Lush Items latest product - the Feathers Artist Brush Set – has received many 5-star reviews including one from an Amazon Vine Reviewer. Achieving reviews with the Vine Voice tag is considered by sellers to be one of the best possible type of review to have on show, as it has a certain amount of extra credibility.
In Amazon's words, Amazon Vine is an invitation-only programme, where trusted reviewers write helpful, honest opinions about the products they purchase, and have the Vine Voice tag added to their name on their product reviews. This scheme came about due to negative publicity about whether incentivized reviews were an accurate reflection of the product.
Amazon has also recently restricted sellers from communicating directly with customers for the purpose of requesting a product review. This makes it all the more pleasing for Feathers Paintbrushes to be accumulating such good reviews naturally after purchasing from Lush Items. These reviews are left by customers taking the trouble to leave their opinions of their own volition. Having genuine reviews is an incredibly important part of the buying process for shoppers online when deciding which item to pick, and from a seller's perspective, it greatly helps the conversion rate and therefore the products ranking in the search results.
Julie Stevens (Lush Items Sales Director) said, "We're incredibly pleased to have a 5-star review with the Vine voice tag. Going forward, our main aim is to provide outstanding customer service and hope that customers are really happy with our products. Then we trust that this will naturally translate into getting some good reviews.".
The Feathers Artist Paint Brush Set consists of 17 short handle, birchwood paintbrushes, with a palette and zip storage case, presented in an elegant gift box. The set appeals greatly to hobby artists who enjoy watercolor or acrylic painting. After running out of stock yet again, they are finally available once more on Amazon.com at a promotional price of $17.99 until the end of August.