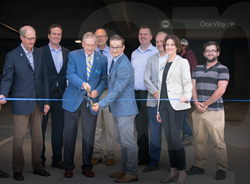 "At AP, our vision is 'we exist to build a better tomorrow.' We believe that the relationships built at each job are just as valuable as the project itself," voiced AP's project manager, Mike Wiese
Wayzata, Minnesota (PRWEB) August 21, 2017
On August 10, Adolfson & Peterson Construction (AP), along with the project team, Mayor Ken Willcox and community members, celebrated the grand opening of the City of Wayzata Mill Street Parking Ramp. The new facility addresses busy downtown Wayzata's need for parking, offering an additional 385 public parking stalls.
Parking ramps are a common market sector for AP; however, the details of Mill Street made it unique. Referred to as "The Great Wall of Wayzata," a 28' high x 450' retaining wall was built to maximize the parking space on site. In all, over 30,000 CY (> 2,500 dump trucks) of dirt was moved for this project. A 93,700-square-foot, cast-in-place concrete structure with a post-tensioned cable deck are the "bones" of the facility; yet the "skin", consisting of brick-veneer precast panels, factory-finished metal wall panels and a decorative wood screen wall, is what really makes the parking ramp stand out. Other unique features include: LED lighting (low energy consumption, programmable and automated dimming), four electric vehicle charging stations and all underground storm water infiltration system.
"At AP, our vision is 'we exist to build a better tomorrow.' We believe that the relationships built at each job are just as valuable as the project itself," voiced AP's project manager, Mike Wiese at the ribbon cutting ceremony. This project originated from the relationships AP built with the city over the last five-years at the beautiful Folkestone development completed for Presbyterian Homes. Through trust and teamwork, AP's "build a better tomorrow" vision came to fruition.
The Mill Street Parking Ramp finished ahead of schedule, providing 200 more spaces than were available last summer. The ramp is now open and receiving resounding praise for addressing the city's need for additional parking space.
About AP
Adolfson & Peterson Construction (AP) is a U.S.-based, privately held builder that is consistently ranked among the top 50 construction managers and general contractors in the nation. Headquartered in Minneapolis, Minnesota, the company delivers innovative and collaborative building solutions for clients across the country from its regional offices in Charlotte, Dallas, Denver, Minneapolis and Phoenix. Founded in 1946, AP serves clients in the education, healthcare, commercial, municipal, multifamily, hospitality and senior living market sectors. For more information, visit http://www.a-p.com or follow us on Facebook, LinkedIn and Twitter.