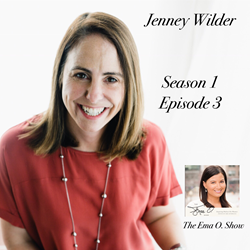 These frank discussions remove some of the unhealthy shame and misinformation that surrounds every family's troubles.
Salt Lake City, Utah (PRWEB) August 22, 2017
The Ema O. Show podcast launched in May 2017 and was created by Ema Ostarcevic, an entrepreneur and Founder and CEO of SEARCH Group Partners, named Utah's 2017 CEO of the Year by Utah Business Magazine, who serves as the show's host. The inaugural season is dedicated to Utah based women who are entrepreneurs, moms, executives, high-profile, politicians and activists.
"When I met Ema in October 2016, I learned quickly that this is a woman who gets things done. She can see where a market is missing a component and fills it. When Ema determined that Utah needed a personalized search firm to ensure that businesses could find the right talent and resources, she created one. When she saw that an audience was hungry for a podcast by women, she created one. I am honored to be on her first season," said Jenney.
Jenney Wilder is the creator and founder of the first independent, comprehensive online directory of its kind for the Family Choice Behavioral Healthcare Industry (FCBHI). Jenney has a story to tell about moving to Utah, becoming a mother and starting her own business, and why Utah is the epicenter for the 'troubled teen' industry.
"Therapeutic boarding schools, wilderness therapy programs or any type of family treatment for that matter, is not an easy conversation," said Jenney. "Ema is not shying away in her first season from discussing mental health, trauma, addiction, family struggles, and all the colorful aspects (or distinctions) that make us human. These frank discussions remove some of the unhealthy shame and misinformation that surrounds every family's troubles. She is a true champion of starting these often-difficult conversations and I am thankful she is exploring these topics."
Podcasting is growing internationally, with monthly listeners expanding from 21% to 24% year over year (Edison Research). According to Ema, "I've always believed that women are the greatest resource for other women and we achieve far more from supporting each other than we do from competing with each other. The podcast is based entirely around this theme. Our line-up for Season 1 of remarkable Utah women is empowering, inspiring and humbling. These women and their stories will move you."
About All Kinds of Therapy
All Kinds of Therapy is located in downtown Salt Lake City, UT. The Intermountain West is surrounded by cutting edge Family Choice Behavioral Healthcare and substance abuse industries for troubled teens and young adults. The website provides the only comprehensive, independent, online directory with as 'search and compare' function to distinguish among the vast options of treatment models, locations, and clientele.
All Kinds of Therapy will donate 1% of its net income to nonprofits that they believe encompass all types of education, all types of learning and all types of therapy.
About The Ema O Show
The Ema O. Show podcast is hosted by Ema Ostarcevic. Ema is the Founder & CEO of SEARCH Group Partners, a premier recruiting firm, and is one of the most influential headhunters within the search arena. Ema was named as Utah's 2017 "CEO of the Year" and has also been featured in numerous publications including Forbes, Fast Company and was also on the cover of Salt Lake Magazine. Ema has been awarded the "Forty under 40" and "30 Women to Watch", "Young Female Entrepreneur of the Year" awards, to name a few.
With entrepreneurship as a backdrop, Ema delivers a show that's more motivational and inspiring than it is business focused -- and that's the point.The podcast available on iTunes, GooglePlay and Stitcher Radio.