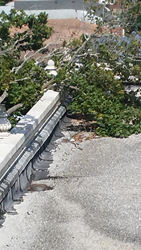 Rockaway, New York (PRWEB) August 23, 2017
AAA Tree Service, a company which offers professional tree services, announced plans to remove tree branches from the roof of Far Rockaway High School after an unexpected windstorm that swept through Rockaway, NY.
Rockaway, like many coastal neighborhoods in New York, is extremely vulnerable to water. More than 120,000 people live on the Rockaway peninsula — a slender mass of land that stretches across 10 miles with the ocean to the south and Jamaica Bay to the north.
The unusual windstorm caused widespread damage to trees across Rockaway. The August 5th storm brought sustained winds that persisted for most of the daylight hours and affected almost the entire city. The sustained, high winds resulted in innumerable power outages and damaged homes, schools, businesses and cars. A large majority of the storm-related damage was associated with downed trees.
Evergreen conifers seemed to bear the brunt of the storm. Many spruces and pine trees were uprooted because of the sustained force of the day-long winds. Deciduous trees were severely impacted as well.
It's been a busy time for AAA Tree crews, as they have been working hard to remove fallen branches that crushed roofs and caused other property damage at Far Rockaway High School.
Michael of AAA Tree Service said, "The restoration effort has included tree pruners, tree trimmers, and many support staff. At AAA Tree Service we perform precise work and fully clean the premises afterward. Our crew takes pride in offering high-quality work that you can depend on."
About AAA Tree Service
AAA Tree Service offers expert tree care and has done so for over 15 years. The company offers professional and experienced tree service to New York residents and businesses and provide 24-hour emergency services. AAA Tree Service is an ISA Certified Arborist and is fully licensed and insured. The company is located in Glen Cove, New York. They offer professional tree services in Tree Removal, Tree Trimming, Tree Pruning, Stump Grinding, and Excellent Property Cleanup. For more information on AAA Tree Service Crew, please visit https://www.aaatreeserviceny.com/.
Media Contact: Michael Mel 516-9031082