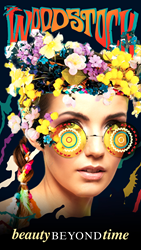 Inception is working closely with the Facebook team to build the future of AR on Facebook
Tel Aviv, Israel (PRWEB) August 22, 2017
Inception, a next-generation immersive content network recently funded by Bertelsmann's RTL Group, today announced that they have been selected as a beta partner for Facebook's Camera Effects Program. This week, Inception unveils some of the very first "filters" for Facebook, showcasing brand content Inception created for Israel's Beyond Cosmetics. The filters are available to Facebook fans of Beyond Cosmetics and are offered through Facebook Camera. Friends of Beyond Cosmetics fans can also share the filters, offering new virality for Facebook.
Facebook's Camera Effects Program was announced at F8 conference and the Beyond Cosmetics campaign is among the very first brands rolling out through the limited number of Camera Effects partners.
In coming weeks, Inception will launch additional AR features with its other brand and media partners. With this, Inception expands their immersive content offerings for client partners, including Time Out and Pitchfork. Inception is working closely with the Facebook team to build the future of AR on Facebook.
Facebook introduced their Camera Effects tools to allow users to personalize and express themselves more fully with the Facebook camera. Inception, with their wide range of existing partners and deep expertise creating immersive content, is excited to be one of the few companies with access to the platform and to be able to bring this kind of AR interactive content to Facebook.
"This is an amazing opportunity for publishers and brands around the world to connect with fans through more relevant and personalized content," said Benny Arbel. "As one of the top VR entertainment apps, we are proud and excited to step into the world of AR and provide even more value for our partners by creating viral immersive content."
ABOUT INCEPTION
Inception is fast becoming the leading 360 & VR destination of choice for premium content for millennials. Inception launched in October 2016, and has top apps for all leading platforms, including Oculus Rift, Samsung Gear, iOS, Android, Google Daydream and HTC Vive, with Microsoft Windows Mixed Reality & Sony PSVR coming soon. Inception has produced signature art, music and lifestyle content, such as 'Daydreaming with Stanley Kubrick', and experiences from the world of Salvador Dali, music experiences with DJs Dimitri Vegas & Like Mike, and steady content creation with premier publisher partners including Time Out and Pitchfork.
Media Contact:
Andy Morris
Code Morris for Inception
andy.morris(at)codemorris(dot)com
917.710.1802