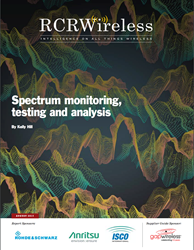 Operators are using more and more bands as well as both licensed and unlicensed spectrum to serve their subscribers, and densifying their networks – which may mean small cells end up closer to things like indoor noise sources,
Austin, Texas (PRWEB) August 22, 2017
RCR Wireless News spoke with experts across the wireless network ecosystem for their views on the evolving radio frequency environment and spectrum interference, including the Dynamic Spectrum Alliance, the Wireless Innovation Forum, Qualcomm, the National Institute of Standards and Technology, Pwc, ISCO International, Anritsu and Rohde & Schwarz, among others.
The report, entitled "Testing and Analyzing Spectrum Interference", outlines the major reasons why the wireless industry needs a better understanding of the RF environment, from the fact that operators are juggling more and more spectrum bands to meet capacity needs, to the emergence of spectrum sharing as a strategy to make more RF spectrum available. Meanwhile, billions of new internet of things devices will inevitably impact the RF environment – but no one knows exactly what the result will be of having so many new RF-emitting devices coming online in a fairly short period of time. Beyond dealing with issues in current licensed bands, regulators and industry are also trying to figure out how to continue to open up new bands for use, which may mean spectrum-sharing and the need to better sense the RF environment to avoid interfering with incumbent activity.
Download this report to learn:
Common sources of RF interference
Five network-based reasons why the industry needs better awareness of the RF environment
Potential spectrum impacts of large-scale internet of things implementations
The role of spectrum sharing in spectrum environment awareness
Details about a prototype system developed by the Communications Research Centre Canada for remote spectrum monitoring
Bonus: Supplier guide for testing and interference mitigation companies
Watch the complimentary editorial webinar featuring:
Kelly Hill, Editor, Test and Measurement, RCR Wireless News
Dr. William Young, Group Leader, Shared Spectrum Metrology; Communications Technology Laboratory, National Institute of Standards and Technology
Rajeev Shah, VP Product Management and Marketing, Federated Wireless
"Operators are using more and more bands as well as both licensed and unlicensed spectrum to serve their subscribers, and densifying their networks – which may mean small cells end up closer to things like indoor noise sources," said Kelly Hill, editor for test and measurement at RCR Wireless News "Meanwhile, regulators – and wireless players old and new – are looking at spectrum sharing as a new paradigm for enabling commercial services in even more bands to feed the seemingly bottomless desire for more capacity and new services. All of these factors play into the need for better analysis and visibility into the RF environment."
Click here to download the report
About RCR Wireless News
Since 1982, RCR Wireless News has been providing wireless and mobile industry news, insights, and analysis to industry and enterprise professionals, decision makers, policy makers, analysts and investors. Our mission is to connect, globally and locally, mobile technology professionals and companies online, in person, and now on video. Our dedication to editorial excellence coupled with one of the industry's most comprehensive industry databases and digital networks leads readers and advertisers to consistently choose RCR Wireless News over other industry publications. http://www.rcrwireless.com