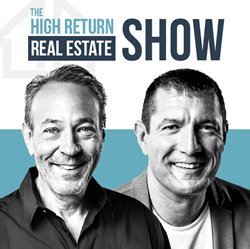 We are two men on a mission to bring investors powerful passive income month after month.
Indianapolis, Indiana (PRWEB) August 23, 2017
High Return Real Estate just went live with a newly revamped online portal for passive income seeking real estate investors. The beautiful new mobile-friendly site provides savvy investors with the latest market insights, and access to turnkey, cash flowing real estate assets.
Officially launched on August 23rd, 2017, the re-designed HighReturnRealEstate.com website provides a powerful gateway for income property investors desiring the freshest information and new doors to add to their investment portfolios. Taking a mobile-first approach, the new site design connects individual investors, groups, and funds to rental property deal flow, on the go, right from their smartphones.
Site features include; new reports via the blog, fresh podcast episodes and videos, the ability to connect via favorite social media networks, and detailed property offerings. Fresh properties are being constantly loaded, with complete breakdowns for investors. This includes operating costs and projected income estimates, property details, and ROI calculations.
While real estate has outperformed the S&P 500 by about 2x since 2000, High Return Real Estate offers even higher potential returns at around 3x the national average in cash flow. These are fully turnkey rental homes, in highly stable markets in America, which target 13%-20% cash-on-cash returns. The Indiana-based firm currently has assets coming online in both Indianapolis and Jacksonville, FL. Properties are freshly renovated, with tenants being placed, ongoing property management, and a full year home warranty. This enables real estate investors to skip all of the guesswork, and lower risk, while maximizing yield, with cash flow coming in from day one. Properties start from as low as $36k.
Co-founders Jack Gibson and Jeff Schechter are accomplished lifelong entrepreneurs who have been investing in real estate for decades. The new website re-design was completed by Florida-based TheSEOAgency.org, which is headed up by a former board member of the Miami Chamber of Commerce.
Test drive the new portal online at https://highreturnrealestate.com, where investors can get the latest intel via the company newsletter, schedule a free consultation with Jack or Jeff, and view the latest deals.