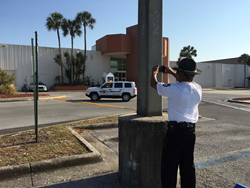 Having the most highly-trained Intelligent Officer Network℠ is an incredible value add, and uniquely positions us as a safety and security services firm that deploys the best Security Officers - David Kahn, Chief Human Resource Officer
ATLANTA (PRWEB) August 24, 2017
U.S. Security Associates (USA), the market leading and wholly-owned safety and security services provider, announces the next chapter in their industry-exclusive training, development and recognition initiative. The security company's SecuritySTARS® continues the expansion of their Intelligent Officer Network℠ (ION), providing Security Officers with a comprehensive deeper dive into their industry leading P3 Technology Platform℠ and advanced mobile training.
As the key training and development module within SecuritySTARS® Level Two, P3 Mobile℠ prepares their OfficerFORCE℠ to use real-time data capture and predictive analytics, equipping them with the ability to capture and communicate potential incidents with clients in real-time. Through this advanced curriculum, USA has effectively enabled their ION to provide clients with the best safety and security solutions, while also reducing risk.
Harold Underdown, SVP Security Officer Force Development, commented, "This proprietary technology uses the most robust array of data attributes and artificial intelligence algorithms in the entire industry. By training our Security Officers to be fluent users of this advanced mobile technology platform, we equip them with the ability to predict and prevent incidents from occurring. The combination of our highly skilled and well-trained Offficers with our P3℠ technology is a force multiplier, which provides our clients consistency of service, innovation, and ultimately better outcomes."
The P3 Mobile℠ module of SecuritySTARS® Level Two details the capabilities of dynamic tours and the predictive power behind data capturing. This additional skillset provides USA's OfficerFORCE℠ with industry leading safety and security technology solutions, transitioning from detect and respond to identifying and preventing incidents in real-time.
David Kahn, Chief Human Resource Officer, shared, "Having the most highly-trained Intelligent Officer Network℠ is an incredible value add, and uniquely positions us as a safety and security services firm that deploys the best Security Officers to each of our client sites. That said, P3℠ isn't just for Security Officers. The P3 Technology Platform℠ embraces even better outcomes for our clients, providing them with the peace of mind in knowing that their people, property and assets are protected."
For more information about SecuritySTARS® and the P3 Technology Platform℠, please visit the USA website: ussecurityassociates.com
ABOUT U.S. SECURITY ASSOCIATES
U.S. Security Associates (USA) is the market-leading, wholly-owned, American, full-service safety and security solutions provider. With over 160 locally-responsive offices, international locations and over 50,000 dedicated professionals, they offer the most complete array of physical security, remote surveillance, and global consulting and investigations to ensure better outcomes for thousands of clients and a range of industries. Innovative applications of leading-edge, proprietary technology enable USA to rank annually among the world's best training companies, sustain the highest standards of quality, and underscore world-class customer service with unparalleled accountability. USA's rise as one of the largest innovative security solutions leaders is a natural byproduct of these differentiators and enables the company to provide the most Safe. Secure. Friendly.® environments for people, assets, and brands. For more information, visit http://www.ussecurityassociates.com.
###