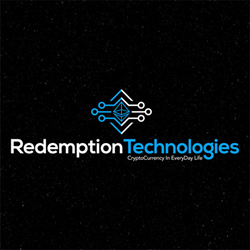 Redemption is coming.
(PRWEB) August 23, 2017
Florida-based Redemption Technologies will launch the revolutionary new cryptocurrency BUZZ tokens through a crowdsale at 1400 GMT September 11th, 2017 which will continue for 30 days.
140 million ERC-20 compliant BUZZ tokens will be available for purchase and any tokens not allocated or sold will be burned forever. Visit Redmption Technologies at http://www.redemption.cloud
BUZZ tokens will flow through the Redemption Technologies Platform, which offers discounted goods and services from merchants who also advertise on the platform. "This is a truly unique partnership between the merchant, the consumer, and the crypto currency exchange platform," said Redemption Technologies CEO Stephen Paglianite. "Merchants generally shy from cryptocurrencies, but what makes BUZZ so attractive is that the merchant can decide what currency they desire to be paid in, they receive excellent advertising exposure as well as feedback on their return on investment."
The platform will be integrated with the Android and iOS app PartyLink, a popular free app that points people to hot spots for the best food, drinks, music, and entertainment. "PartyLink is the first of what will be thousands of apps connected to our platform," said Terry Martine, COO of Redemption Technologies. "We have been building and testing this technology, and people will love the way it works," he added.
Chief Legal Counsel Kelly Elkins researched business models for dozens of other cryptocurrency launches, and believes the Redemption Technologies plan is solid, sound, and attractive to investors for several reasons. "There are a number of attractive elements to the Redemption Technologies package as a whole, and I've researched many other similar roll-outs," said Elkins. "The buyback benefit and bonus structures are particularly appealing."
Download Whitepaper here: https://goo.gl/rVZXB7
Long-range models for projected revenues as well as other details about the sale, buy back, funding allocation, and a list of FAQs are available in the White Paper as well as contact information for Redemption Technology's leadership.
Redemption Technologies Inc. is a worldwide open source e-commerce marketplace platform that anonymously connects subscribers with local merchants that do not accept cryptocurrencies. The Redemption Technologies Platform will be an open source infrastructure and offered free to developers.