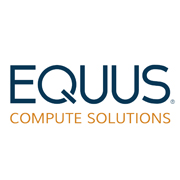 Edina, MN (PRWEB) August 22, 2017
Equus Compute Solutions, one of America's largest manufacturers of custom computer hardware systems, will be joining with AIC to showcase a range of server platforms that are ideal for VMware virtualization and vSAN solutions at VMworld 2017, Booth #113. VMworld will be held August 27-31, 2017, at the Mandalay Bay resort in Las Vegas, Nevada.
The new innovative server and storage platforms on display at VMworld 2017 utilize high-density NVMe storage solutions that provide the speed and capacity required for today's high performance VMware-based applications. The server configurations range from a 1U 10-bay NVMe storage server, to a high-availability 2U 24-bay NVMe server, to a 1U 36-bay Next Generation Small Form Factor NVMe SSD storage server with a capacity of up to 576 terabytes.
"We are pleased to be teaming with AIC, which is a key Equus technology partner," said Steve Grady, Equus VP Customer Solutions. "Companies that want to run a virtualized environment on VMware have several hardware options available to them. Equus is integrating these advanced AIC servers and storage platforms into cost-optimized Hyper-Converged VMware-based solutions for our channel partners."
As a world-renowned custom computer manufacturer, Equus offers extremely competitive prices – with superior logistics and support – to value-added resellers (VARs), independent software vendors/original equipment manufacturers (ISVs/OEMs), cloud services providers, and content delivery service providers. Equus offers solutions for software defined infrastructures – storage, virtualization and management – that offer a level of customization options for these solutions that is unavailable from larger vendors. In addition, Equus optimizes life-cycle costs by training customers on how to support systems using in-house resources rather than costly outside vendors.
###
About Us
Equus Compute Solutions customizes white box servers and storage solutions that enable flexible software-defined infrastructures. Delivering low-cost solutions for the enterprise, software appliance vendors, and cloud providers, Equus is one of the leading white-box systems and solutions integrators. Over the last 28 years, we have delivered more than 3.5 million custom-configured servers, software appliances, desktops, and notebooks throughout the world. Our advanced systems support software-defined storage, networking, and virtualization that enable a generation of hyper-converged scale-out applications and solutions. From components to complete servers purchased online through ServersDirect.com, to fully customized fixed-configurations, white box is our DNA. Custom cost-optimized compute solutions is what we do, and driving successful customer business outcomes is what we deliver. Find out how to enable your software-defined world with us at http://www.equuscs.com.