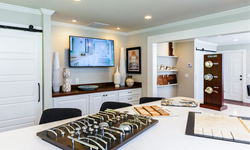 Harbor Club Setting the Standard for Quality Home Construction and Materials.
Atlanta, Georgia (PRWEB) August 22, 2017
For many, after diligently saving for retirement, the 'bucket list' kicks into focus and many grant themselves a well deserved reward. Perhaps traveling to exotic places around the globe or moving to a new destination to build a dream home. The benefits of building a new home at retirement are undisputed according to Real Estate Scorecard. Lower maintenance, higher energy efficiency, homes without stairs and having things just the way a family wants from the moment they move in. While track home builders appeal to some because of the cheap cost of multiplicity, Real Estate Scorecard finds the more highly educated retired working professional chooses quality over quantity while searching for Lake Oconee homes for sale.
At Harbor Club Lake Oconee in Central Georgia, Patriot Builders' quality home construction and materials are setting a higher standard. Patriot Builders is Harbor Club's exclusive in-house homebuilding company. Their success makes sense because no one knows the topography of the land better and cares about the overall end result. Timeless designs and timeless finishes will keep Harbor Club looking sparkly and new for a very long time.
While buyers searching for Lake Oconee new home construction have the ability to choose any home builder, after touring homes within the golf and lake community in Georgia, many chose Patriot Builders. Their new homes exude quality with features such as:
HardiPlank™ concrete composite siding soffits & trim
Pella™ windows and doors with Sunshade
Poured concrete foundations with waterproofing
Thermashield™ plywood attic sheathing
Conditioned crawl space with 6 ml foundation vapor barrier
40 year architectural roof shingles with ridge vents
Professional landscape with irrigation
R50 foam board insulation on all attic scuttle doors
I-joist framing system
Insulated garage doors
Belt driven garage openers that are Wi-Fi capable
Marathon™ high efficiency water heater
120 gallon buried gas propane tank
Gas line to fireplace and patio
Kitchen-Aid™ appliances including gas cooktop, wall oven, refrigerator
Lennox HVAC systems with separately zoned master suite.
PEX plumbing system
Rounded drywall corners
Two piece crown in all public rooms and master and baseboard through out
Quality wood flooring in all public rooms
Stepless master shower
Frameless master shower doors
Schluter®-Shower System for tiled showers
3'0 entry doors and master bedroom doors.
Comfort height commodes
While this list may seem a bit technical, these standard features are important to understand because often times these items can cost a buyer thousands of dollars in unexpected add-on costs when choosing a different homebuilder for their Lake Oconee new home construction. A buyer can expect home prices with these standard features to typically range from $116- $127 per square foot. Harbor Club estate homes average around $160 per square foot. Patriot Homes typically averages 8-9 months to build a new home from start to finish. Happy new home owners often say "building my perfect dream home was worth the wait".
Patriot Homes is Harbor Club's exclusive, in-house home builder. Having debuted in 2015, Patriot Homes continues to be led by the highly-experienced and knowledgeable team of Jeff Carreker and Brandon Matney. With stunning Southern Living-inspired home designs and Jeff and Brandon's 20-plus years of custom home building experience, the duo has already produced several beautiful, new construction homes at Harbor Club. The majority of these homes are what's known as The Cottage Series -- built with right-sizing in mind, yet with extra thoughtful details throughout.
The Design Studio at Harbor Club on Lake Oconee is where folks will find Patriot Homes and is a one-stop-shop for new home buyers. Here they will find an expert professional decorator, on site, who takes the time to get to know a family's distinctive style. Choose from a wide selection of cabinets, hardware, countertops, tile and more. From light fixtures to faucets to flooring and everything in between, buyers will enjoy exploring beautiful options to make every detail of Georgia lakefront new homes a unique reflection of a family.
MORE ABOUT HARBOR CLUB ON LAKE OCONEE
Located on the shores of Georgia's second largest lake, residents here enjoy a fun-filled life 365 days a year. Residents are active and most live here year round. Amenities includes an affordable award winning championship golf course and elegant 15,000 square foot clubhouse, the Boathouse marina and restaurant, new state-of-the-art fitness center and walking trail system, swimming pool, tennis, pickleball, a dog park and more. Lake Oconee is by far one of the best places in the state for water sports and fishing.
Southern Living Magazine noticed and named Harbor Club on Lake Oconee one of the finest Southern Living Inspired Communities in their collection. The club also won Best Lake Community of the Year from Real Estate Scorecard, an online review website portal.
Take a tour of Lake Oconee homes for sale and explore their Design Studio. Be sure to ask about their welcoming Discovery Package to can experience their lakefront community up close.
Reserve a special Discovery Package with Kathy Phillips today. She can be reached via phone at (706) 454-7042.
About Real Estate Scorecard:
Real Estate Scorecard writes unbiased real estate reviews providing in-depth information about popular gated communities in Florida, Georgia, the Carolinas and Tennessee and Central America, all in an effort to help people discover where to retire in the South.
Website: http://realestatescorecard.com