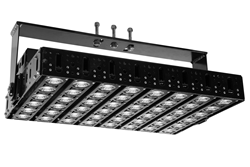 This high bay only requires 500 watts to power over 62,000 lumens of high intensity LED light, offered in multiple beam spreads.
Kemp, TX (PRWEB) August 26, 2017
Industrial lighting leader, Larson Electronics LLC, is adding a new addition to its line of high bay LEDs, a 500 watt outdoor rated high bay LED with an intense light output; a powerful alternative to metal halide lamps. This high bay LED is ideal for flood lighting, crane lighting, light towers, and other general industrial and outdoor lighting applications.
The GAU-HB-500W-LED LED high bay light from Larson Electronics features forty-eight high output Cree LEDs that produce a total of 62,500 lumens of intense light, but only draws a mere 500 watts at 3.34 amps from a 120 Volt electrical system. When paired with special high purity PMMA optics and high elevation mounting, these LEDs achieve very focused 24º wide spot beam, which provides concentrated illumination, even over far distances. In addition to the standard 24º beam, this high bay LED is also offered in 10° spot, 38° narrow flood, 60° flood, and 90° wide flood beam spreads. Spot versions are most ideal for light masts and high spot lighting, while the wider beam spreads are best for general area illumination work lights.
The LED lights in this high bay unit have low power requirements and very high durability, making them ideal replacements for fragile, hot running 1000 watt metal halide lamps. LEDs are reliable and powerful, offering superior lighting for demanding locations. Additionally, this outdoor rated light is IP67 rated, able to withstand extreme outdoor conditions. It can handle quick temperature changes and function between -40º Celsius to +80º Celsius. This unit is also waterproof and protected against dust, dirt and humidity.
"This high bay only requires 500 watts to power over 62,000 lumens of high intensity LED light, offered in multiple beam spreads," said Rob Bresnahan, CEO of Larson Electronics LLC. "A high light output with little draw, and of course the outdoor rating and ruggedness of this unit, makes it a very reliable light for abusive conditions."
About Larson Electronics LLC: Larson Electronics LLC is a manufacturer of industrial lighting equipment and accessories. The company offers an extensive catalog of industry-grade lighting and power distribution products for the following sectors: manufacturing, construction, food processing, oil and gas, military, marine and automobile. Customers can benefit from the company's hands-on, customized approach to lighting solutions. Larson Electronics provides expedited service for quotes, customer support and shipments.
High Resolution Image 1-GAU-HB-500W-LED
High Resolution Image 2-GAU-HB-500W-LED
High Resolution Image 3-GAU-HB-500W-LED
High Resolution Image 4-GAU-HB-500W-LED
High Resolution Image 5-GAU-HB-500W-LED
Product Cut Spec Sheet-GAU-HB-500W-LED