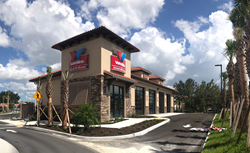 Estero, Florida (PRWEB) August 22, 2017
Valvoline Instant Oil Change℠, known for its 15-minute drive-thru oil change, has opened a new service center in Estero within the Shoppes of Grande Oak Center next to the Miromar Outlets. This brand new location has been outfitted with proprietary cutting-edge tools to provide a quick, easy and trusted experience for every customer, every day. The store team uses an ASE™-certified training program and can work on most vehicles makes and models, including luxury, hybrid and diesel vehicles.
"Community involvement is very important to us." says John Bent, Area Manager. "We have a history of community involvement in Southwest Florida and are looking forward to giving back to the Estero community."
Valvoline Instant Oil Change offers over 30 years of fast, convenient car maintenance services for busy people and company fleets. Open seven days a week with no appointment ever needed makes it perfect for everyone. Visit VIOC.com for store hours, directions, and coupons.
About Valvoline Instant Oil Change℠
Valvoline™, a leading supplier of premium branded lubricants and automotive services, has been serving American motorists for more than 150 years. Its operating segment, Valvoline Instant Oil Change℠, ranks as the #2 quick-lube chain by number of stores, with more than 1,070 company-owned and franchised locations in the U.S. Its industry-leading model delivers service you can see from experts you can trust. Visit http://www.vioc.com to learn more.
™ Trademark, Valvoline or its subsidiaries, registered in various countries
℠ Service mark, Valvoline or its subsidiaries, registered in various countries
About Henley Enterprises, Inc.
Henley Enterprises, Inc. founded in 1989, is the largest Valvoline Instant Oil Change franchisee. They operate over 200 service centers across twelve states including: California, Delaware, Florida, Michigan, Massachusetts, Maryland, New Hampshire, New Jersey, Ohio, Pennsylvania, Rhode Island, and Virginia.-