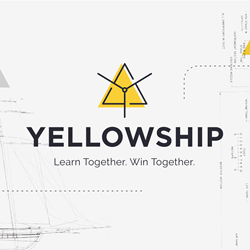 "...Indy [is] the perfect place to introduce and grow Yellowship. We are also proud to have Lessonly call Indy home, and we look forward to their continued growth in our city." - Chris Gahl, Senior Vice President, Visit Indy
Indianapolis, Indiana (PRWEB) August 22, 2017
Lessonly, the leader in modern team learning software, today publicly announced the launch of their annual user conference, Yellowship. Yellowship will bring thought leaders and professionals from across the U.S. to Indianapolis for two days of learning, speakers, and discussion centered around team learning, productivity, and performance.
"This is more than just a world-class conference, it's about fellowship—leaders from all sorts of industries connecting and growing," said Lessonly CEO Max Yoder. "The conference byline says it all: learn together, win together. That collaborative team spirit is integral to Yellowship."
Yellowship aims to further Indianapolis' growing reputation as a Midwest tech hub. For years, ExactTarget's marketing conference Connections drove thousands of attendees and millions of tourism dollars to the city—but was moved to New York in 2015. Lessonly hopes that Yellowship leads the charge for more tech conferences in Indy. The conference is starting small—Lessonly expects around 250 professionals at the inaugural event—but they are targeting significant growth in the coming years.
"Indy's thriving tech scene coupled with its designation by USA Today as the '#1 convention city in the U.S.' makes Indy the perfect place to introduce and grow Yellowship. We are also proud to have Lessonly call Indy home, and we look forward to their continued growth in our city," said Chris Gahl, senior vice president with Visit Indy.
Yellowship will be held at the Mavris Arts and Event Center in downtown Indianapolis, from April 17-19, 2018. The conference will include keynote addresses from reputable speakers, breakout sessions led by industry leaders, networking opportunities for attendees, and a dash of Lessonly culture at an evening of entertainment entitled 'Llamapalooza'—an ode to the company's quirky llama mascot. For more information about Yellowship 18, visit the conference website.
Lessonly has doubled in size every year for the last 5 years, and continues to fuel the Indy economy through a series of hiring initiatives. They will hire for numerous roles in sales, client experience, enablement, recruiting, operations, and product through the end of 2017. Current openings can be found on Lessonly's website.
About Lessonly
Lessonly is modern team learning software used by over 750,000 learners at more than 400 companies to translate important work knowledge into Lessons that accelerate productivity. Sales teams across the world use Lessonly to reinforce best practices, accelerate rep performance, and close more deals. Support teams across the world use Lessonly to serve customers faster, drive consistent support, and elevate the customer experience. Learn more at Lessonly.com.
Follow us on Twitter at @Lessonly and like us on Facebook at facebook.com/lessonlyapp.